A SEO Agency with accountability
We deliver real SEO results
You don't spend much time on the 2nd page of Google – so why should your website? 
SEO can be transformative; it can elevate your business to new levels by bringing in sales and enquiries from your target market. It can change small companies into big market players like little else.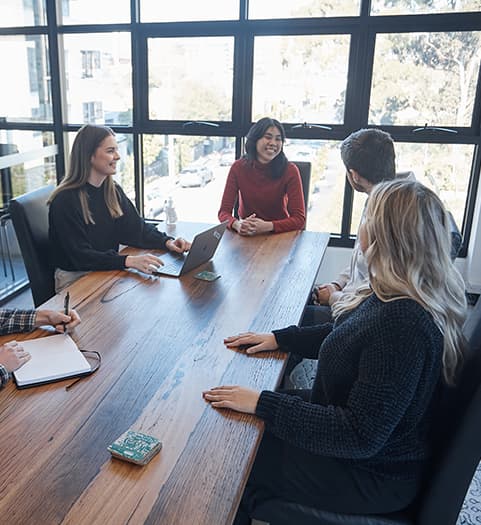 An effective SEO strategy ensures that Google is getting the right impression about what your business does, what kind of customers and search terms are the right match, and why your brand and site deserve to appear above your competitors. 
At Optimising, we don't believe in "one size fits all" SEO solutions, this is why each of our campaigns and solutions is unique. Personalisation is key.
By using experience gained over 15+ years and through hundreds of campaigns, combined with knowledge of current trends and techniques, our team of technical experts will tailor a solution that aligns with your marketing and sales objectives and, importantly, gets you the results you need.
We focus a lot of manual hours on creating an engaging website with great structure and content to build your online reputation in an effective and sustainable way. The aim of modern SEO is to impress Google – not trick them! 
How do we define SEO?
Increasing your relevance to Google and your customers
Search Engine Optimisation (SEO) is the name given to any activity that attempts to improve where you rank (usually for specific keywords) across Google's search results. Getting on to the first page of Google, especially for keywords related to your business objectives, attracts relevant visitors to your site and helps to drive conversions.
How does SEO work?
Staying relevant by being ahead of the pack
When people search for something on Google, the search engine's powerful algorithm ranks a number of webpages in terms of their relevance to your search. This is the reason why you get exactly what you're looking for (or at least something highly relevant) every time.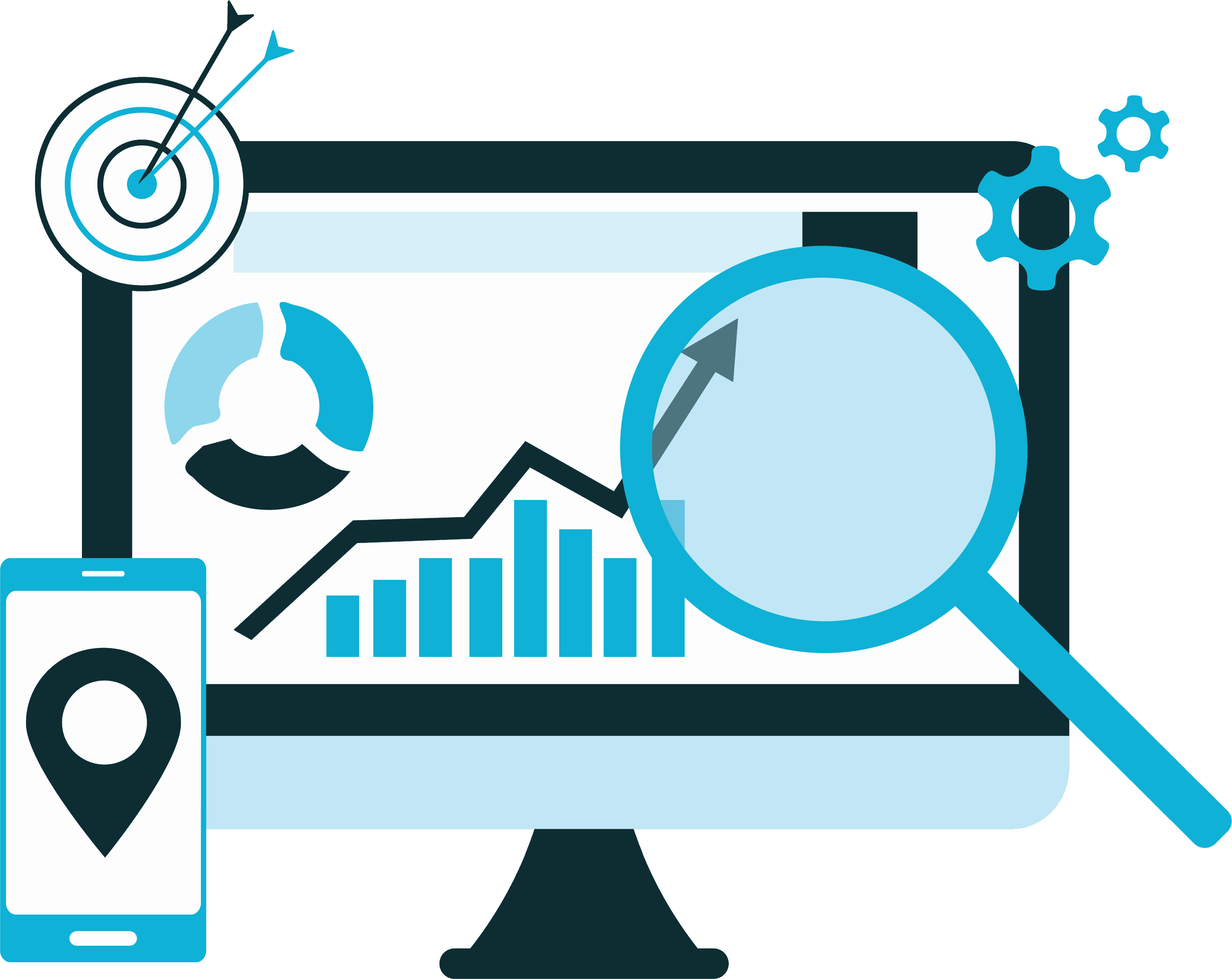 The relevance of a website is based on thousands of factors. 
We won't bore you with the details, but Google's aim is to display the websites that do the most authoritative job of satisfying the user's query, and sometimes intent, at the top of the search.
Some major factors to consider are:
Does the content accurately match what the user is searching for?
Is the website readable across desktop, tablet, and mobile devices?
What kind of authority does your website hold in the eyes of Google?
Why SEO?
Don't look for your customers, let them find you
Search Engine Optimisation (SEO) has something for anyone operating a commercial website. 
Google is the biggest opportunity you have to reach new customers and the most effective long-term way to reach new customers is a better ranking through SEO.
SEO is a vital part of any complete digital marketing strategy, and should be considered in conjunction with all other parts of your marketing mix such as design, branding, PR, content, and offline advertising.

What we do in an SEO campaign
An effective SEO strategy ensures that Google is getting the right impression about what your business does, what kind of customers and search terms are the right match, and why your brand and website deserves to appear above your competitors. 
We put in the time, effort, and expertise to ensure your campaign can perform to its full potential.
Research and Strategy
A campaign without a clear and results-driven plan is destined for failure.
We aim to equip your business with a competitive advantage by carefully researching a personalised digital marketing plan that will change your business. As we often mention, there is no "one-size-fits-all" solution with SEO.
We spend significant amounts of time researching market competitors while analysing client and customer data, creating the exact roadmap that will lead you to success.
This strategy may include addressing technical on-page SEO issues, content strategies, UX changes, and much more.
Link Building
At Optimising, while we have a large focus with regards to on-page factors and technical SEO, we don't neglect the creation of quality links that point back to your site to help it's reputation and rankings.
As a rule, backlinks should be natural and created by humans for humans (not search engines), this is why we do everything manually here at our Melbourne offices. Quality control in link building is essential now days to avoid Google's penalties.
We like to be flexible with the off-page SEO that we do. Something that works really well for one client might not have the same impact for the next.
Reporting and Analysis
Without proper analysis and reporting the success of a campaign can be difficult to measure. We strongly believe that by analysing and learning from our results we continually evolve and grow; we apply the same thinking to each and every campaign that we run.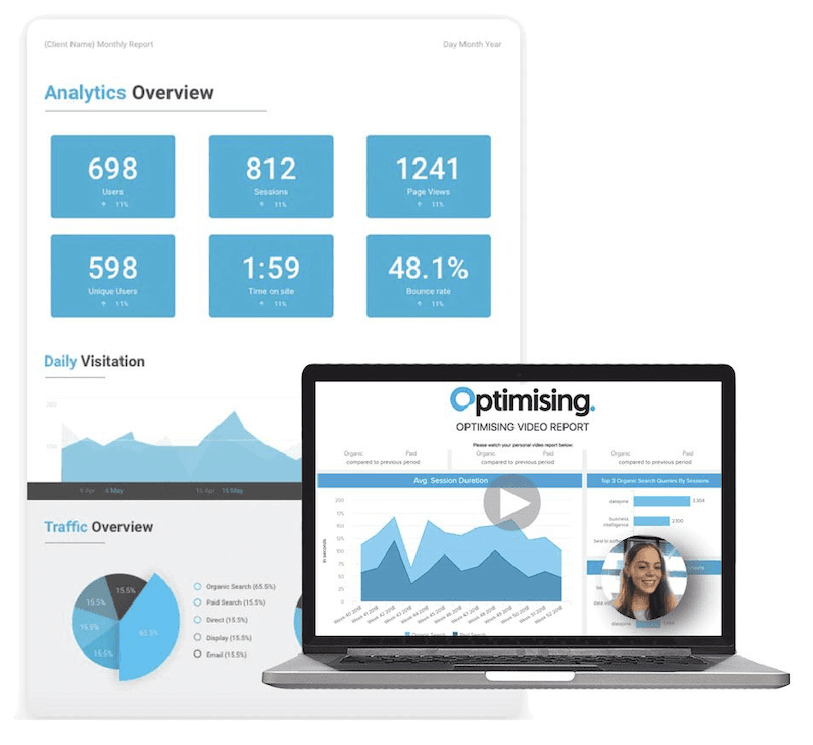 Each month, the team spends time going over the previous month's results with a fine tooth comb, so you get a blow-by-blow report with full commentary. No stone is left unturned.
Using proprietary ranking and reporting tools we provide detailed, easy to read monthly written (and periodically video) reports to keep you and your team constantly updated on your campaign.
With us, you're never in the dark – it's your business and you deserve to know what's going on every step of the way.
Tricks of the trade: one tool is not enough
Want to get down to the nitty-gritty? We use an array of industry leading third-party tools, such as Ahrefs, SEMRush, Screaming Frog and Moz, to name just a few of our favourites. Together, the combined resources behind software like this helps us nail that perfect SEO campaign.
We've also developed our own in-house tool (Radar) which helps us, not only analyse your results, but carefully interpret that data into something comprehensive and meaningful towards the success of your business.
Our SEO Team
Top of the SEO game
Optimising prides itself on its great people. 
We are all dedicated to our clients, have decades of combined experience in the SEO field, and have all the necessary skills to make your campaign a success, but it's our attention to detail and transparency that really sets us apart.
Types of SEO Campaigns
A customised SEO solution for a complex situation
No business or SEO campaign is exactly the same, which is why we are flexible with the engagement options we offer to our clients:
SEO case studies
Learn why we've been trusted with SEO Campaigns by businesses over many years
Optimising has been around for a while. We've seen SEO change completely in the time we've been doing it – and we're still here!
What's our secret? Real SEO work, and real SEO results...and some amazing clients.
SEO FAQ's
Search Engine Optimisation, or SEO, is the process of increasing a websites' visibility across search engines. SEO usually targets a number of specific keywords related to a website's potential audience as a way of increasing the quality as well as the quantity of the traffic. 
SEO work generally falls into 3 major categories:
To increase search engine visibility and drive qualified organic traffic
To fix technical issues with the website: to rank you need to be able to be crawled by the search engines.
To drive conversions: conversions are not just for ecommerce! Usually we focus on this as a campaign matures, but we regularly take a look at the types of traffic that are leading to conversions/enquiries and lean more heavily into those areas.
The proverbial ball of string! It depends – on current rankings, your competitors, the competitive landscape of each search term, the age of your company, domain, the state of your existing website, the state of your link profile, the list really goes on … 
Generally speaking, it's good to give a campaign a few months to get a good idea on expectations, but some phrases can get fairly quick traction with the right on-page strategy.
We prefer working in a fairly collaboratory way with our clients - especially around content advice, link opportunities and approving any of our proposed website changes.
It depends a little on size and industry – some larger companies have their own PR/marketing/content writing resources we can work with, guide and leverage, but some smaller businesses may not have the time and so we'll spend more time on those efforts ourselves.
Every client and situation is different – and so is our approach. 
Did you know 15% of all searches have never been searched before on Google? 
The way people search and the language they use to signal their intent is hugely variable, and it's why, with modern SEO, it's not important to try to worry too much about capturing every iteration of keyword and replicate them on your page. Google are pretty smart now about working out the intent of the searcher – and it's more important to capture the keywords that cover the main themes of what you do. 
At Optimising, while keywords are one metric we use as a benchmark, we'll also report on more important factors like conversions and overall organic traffic growth.
Nope!
While certain important factors can be addressed fairly quickly and carry significant weighting, there are always ways to improve via content, testing and improving usability, and growing a healthy and sustainable link profile. Your competitors won't all be standing still – so neither should you. 
That being said, our work is not reliant on staying with us (we don't use fake link networks that you can be removed from) and there's no real harm in pausing campaigns to try other avenues if rankings are stable and fruitful.
Optimising are a SEO first agency: When it comes to digital, SEO is the one technical aspect of your online presence you cannot afford to compromise on.
We have a strong focus on technical SEO – and we rely on our skills and experience just as much as we do tools and software.  Getting the technical aspects of your website and SEO campaign right are the key to success in achieving your digital marketing and strategic objectives.
All work is handled in-house in our Melbourne office. 
We pride ourselves on ethics and transparency in both our work and reporting.