Skip to content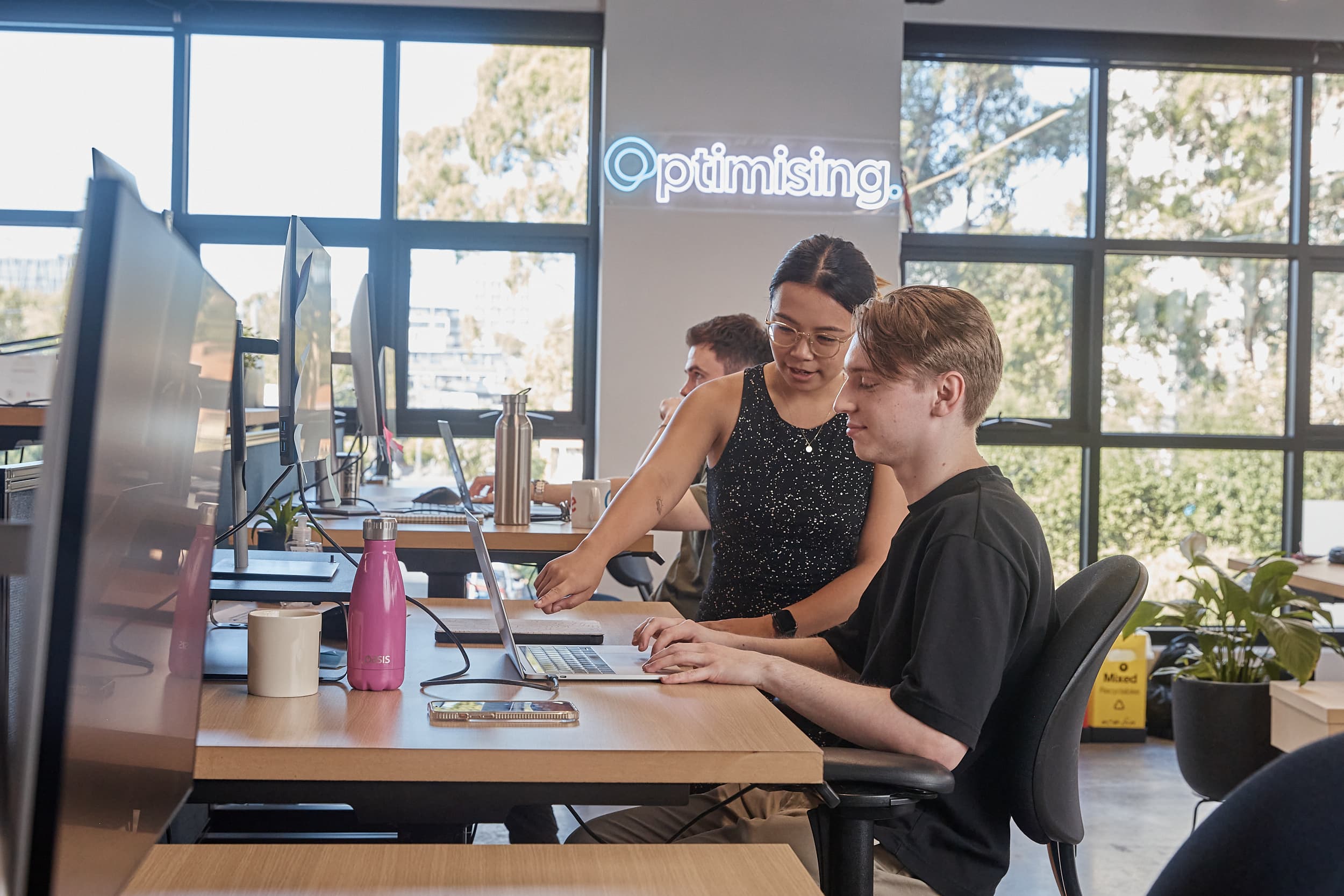 UTM Codes - the secret to better campaign tracking
Businesses tend to run a variety of online marketing initiatives as part of their overall digital strategy. Whether it be paid, email, social, organic, or the many other channels used to communicate a message as part of a campaign. Knowing what each channel specifically contributes to traffic numbers (and in turn revenue) will help you to better understand the strengths and weaknesses of your efforts in terms of ROI. No doubt you may be saying to yourself right now – isn't this just common sense?
Okay, so let's say you place various advertisements in multiple locations across multiple third party online publications, social media, as well as your own newsletter. Measuring the individual performance of each channel is essential to accurately evaluating how much value each channel really brings in.
The most accurate way to do this is using something called 'UTM parameters'. So what is a UTM parameter and what do they do? First of all, 'UTM' stands for Urchin Tracking Module. In basic terms, a UTM parameter is a tag that is added to the end of a URL string which when clicked, will send that data back to Google Analytics. This parameter has the functionality to allow you to track specific URL's and therefore allowing you to individually view this within your Google Analytics report. 
There are 3 required and 2 optional parameters that form the structure of a UTM which will help you to characterise each component of your campaign. Let's take a look at each:
Required UTM Fields
utm_source – This is the broadest element of the UTM and this field is used to indicate where the source of traffic is coming from. For example, if you are posting something on Facebook or Instagram, then that would be the source name to use.
utm_medium – The medium is used to indicate the specific element. Here you may look to describe a specific element on such as a product image in a newsletter or the position or size of a banner advertisement.
utm_campaign – This field is used to refer to the actual campaign you are running. Let's say that you are running a summer sale this year then you may look to call the campaign 'summer_sale_18'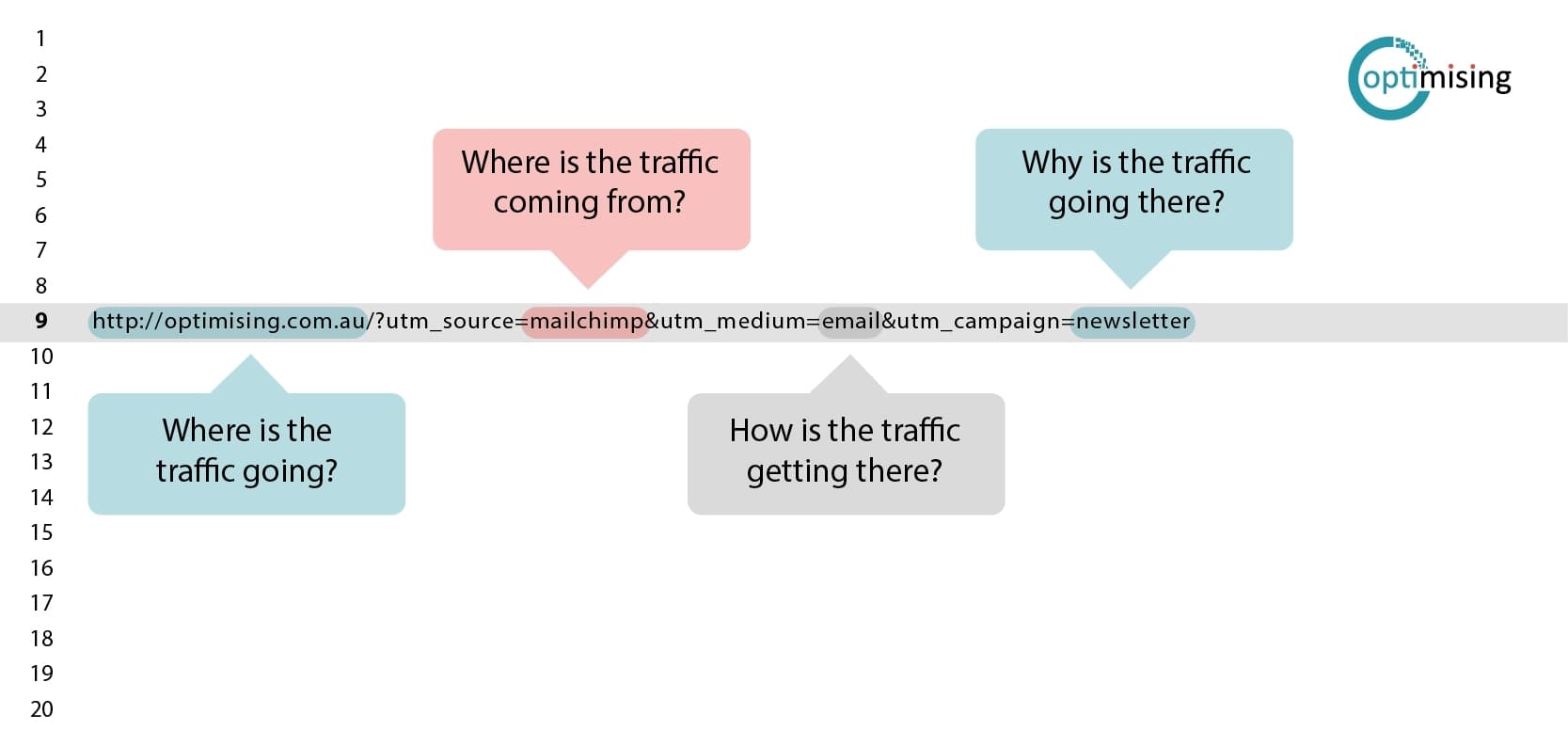 Optional UTM Fields
utm_term – This field is used specifically for paid search and can help to determine the particular keyword you were bidding on for that specific ad. For instance, an Ad for the term 'protein supplements' would be tagged 'utm_term=protein_supplements'
utm_content – For marketers that are split testing various advertisement content effectiveness, this field can be used to identify what specific advertisement triggered the UTM tag.
Using an example of a jeweller who places a product photo of a minimalistic 6 claw solitaire engagement ring on Facebook, the campaign may look something like this;
https://www.tyjewellery.com.au/?utm_source=facebook&utm_medium=productimage&utm_campaign=6clawsolitairengagementring
Setting up your first UTM parameter
Fortunately for us, our friends at Google have made life simple and there is a tool available which is easy to use. Using the Google Analytics URL builder, you can step yourself through the process with ease and without confusion. Once you have generated the campaign URL all you need to do is to use that link for whatever you want to track and you are up and running! 
Pro tip: the URL parameters are case sensitive and the UTM tag is visible to users. Taking care in how you set these tags up will be important for data identification and from a branding perspective. Use parameters which are logical and would not cause any suspicion.
How to View the Data
Now we have gone to all this effort in setting these URL's up, we need to make sure we're interpreting the data correctly.
So where is the campaign data located? Simply head to Google Analytics → Acquisition →All Traffic → Source/Medium, and you will find the data collection point here for all tracked campaigns where the UTM tag has been used. 
Here's an example of traffic from a UTM setup through a Google My Business link: 

Similarly to other areas of Google Analytics, each campaign can be clicked to reveal key data such as the Bounce Rate, Page Views, Session Duration which will help determine the effectiveness of each campaign that has been run. This can be a critical component of any review when determining whether to continue to allocate time, resources or money at a particular endeavour.
Start using UTM tracking today
Tracking individual components of a marketing campaign are very simple and easy to do with a bit of planning when kicking things off. Considering Google Analytics does not provide the detail we sometimes need about specific campaign results, using UTM tracking is a no brainer. 
If you have any questions about UTM tracking, then please feel free to use the comments section of this post!
---
We value purpose over profit and take action.
Our values and beliefs have always set the tone and approach to our business. It's not just enough to grow as a company and produce profits, we have a global responsibility to make our economy more inclusive and sustainable. As both a B Corp and a member of 1% for the planet, we have further cemented this purpose within our organisation.
However, our work isn't done quite yet. For Optimising, this is simple the start of our journey towards building a better business and world!
Find out more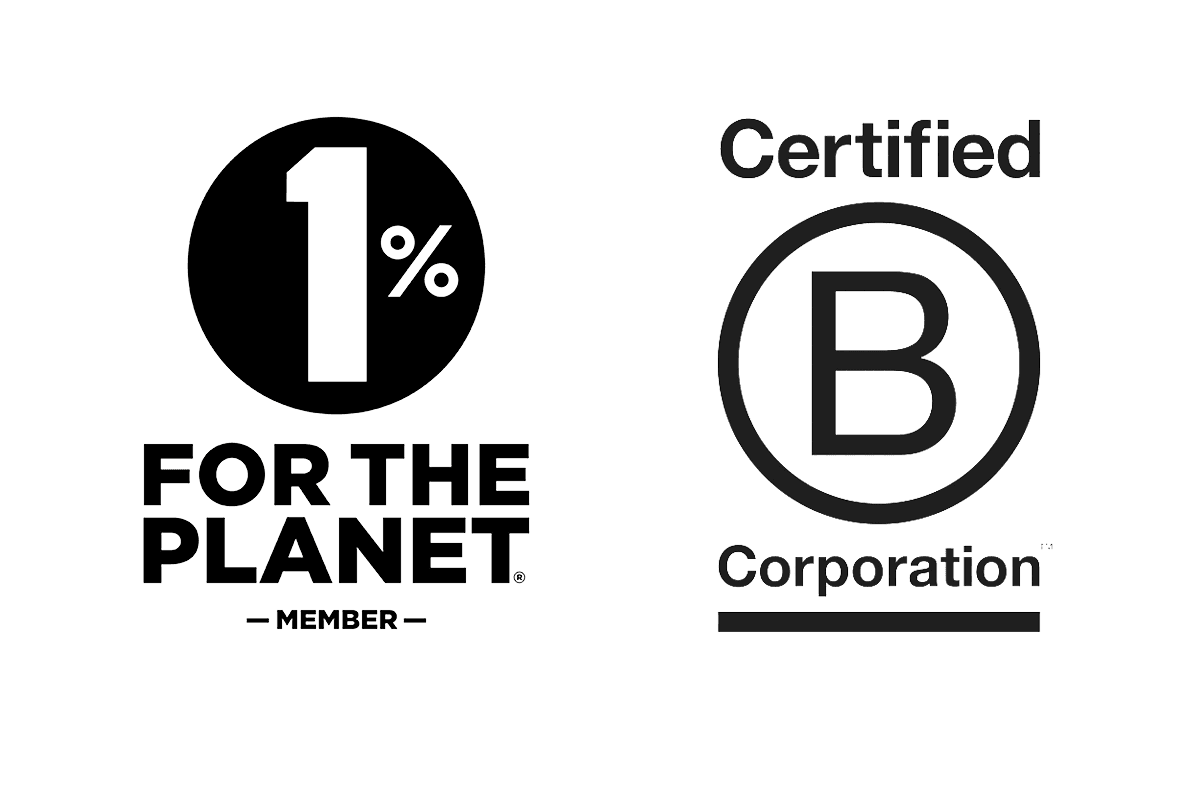 Partner with
the real deal
Chat with us today and we'll get you the results you deserve.
We acknowledge the Wurundjeri Woi Wurrung people as the Traditional Owners of the land now known as Richmond. We pay our respects to Elders from all nations - and to their Elders past, present and future.
Optimising is committed to cultivating and preserving a culture of inclusion and connectedness. We are able to grow and learn better together with a diverse team of employees.