Skip to content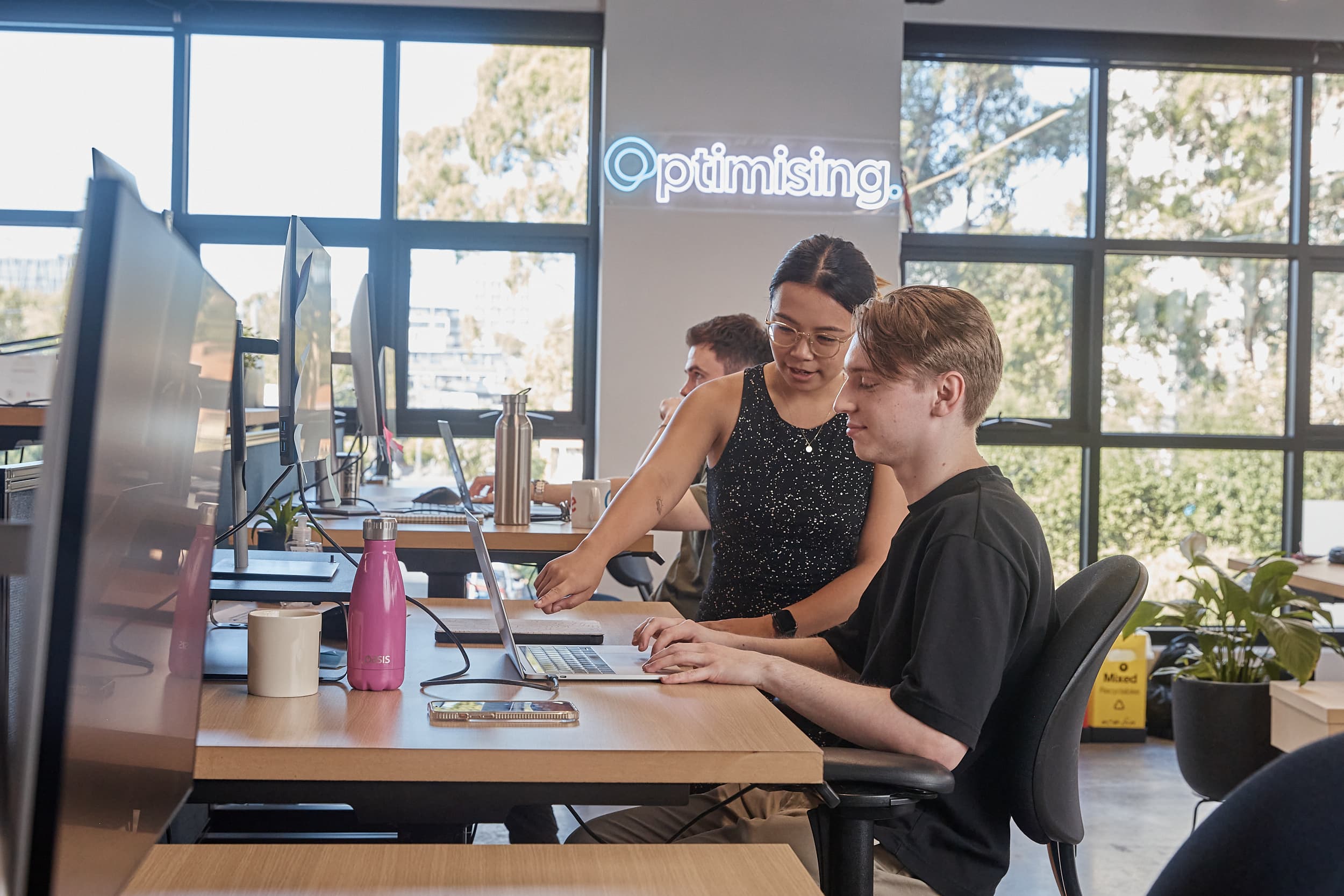 How one Melbourne startup is leveraging online communities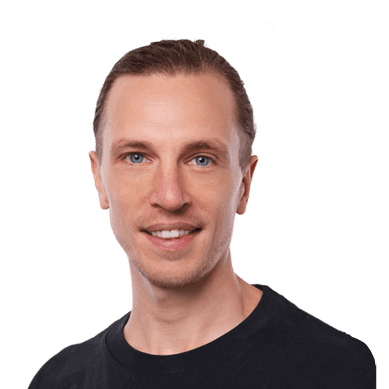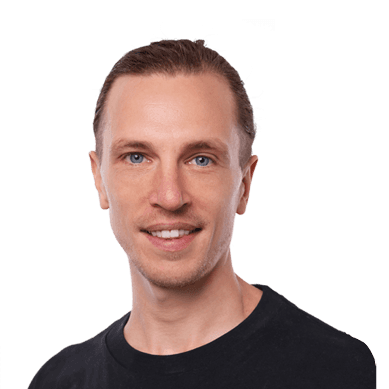 Daniel Zuccon
Co-Founder & Operations
We love speaking to people who are disrupting any industry using Google organically. We came across a great new VPN platform (note: it's much more than just a VPN) called Oeck making some noise online, and after chatting with the founders Peter and Cameron, and finding out they were a growing Melbourne startup - we were all in. While a SaaS business is very different than many clients we work with, the objectives and fundamentals around improving a website organically remain. We sat down with one of founders, Peter, to dig a little deeper. 
We note from your FAQ that it is pronounced as "Oak", but what is Oeck?
Oeck actually does not stand for anything. As far as what it is, it is like a VPN but better. It uses VPN technology and does what you would expect of a VPN, but it also offers a lot more in terms of flexibility and features for the end user. It's not just a VPN - it's an Oeck!
So how exactly is your VPN product better? 
(How long can our interview go? Haha.)
In a nutshell, we have brought brand new features to the industry as well as only used our own hardware. Here is a breakdown of some of the unique features Oeck offers.
Streaming Automation - Connect to the VPN region nearest to your location and still access content from overseas streaming services.
Device Profiles - Each profile allows you to have unique settings for when you log in.
Advanced Port Forwarding - You no longer need to keep track of IP addresses or configure your software to work with the VPN ports you are given.
Ad, Malware, Social Network and Adult blocker - You can pick and choose which (if any) of the blockers you want enabled for each device profile.
Custom filter - You can take the blockers even further by adding your own domain block-list on a per-device level.
Custom DNS - You can set your DNS on a per-device level. You can choose for the VPN to give you complete control to your DNS, or set your DNS and still allow the VPN to take control over certain domains in order for the channels and blocking to still work.
Automated server selection - This completely removes the need to server-surf on the users end.
What is your background? How did you get into IT security?
Cameron and I are both from the industrial automation sector. We have been working together for 16 years. Both of us have been passionate about computers and IT since we were kids and wanted to build something new and fresh. We implemented our principals of automation into the Oeck service which makes it very stable and heavily automated. The features also stand out as they are unique to us.
We'll get the tough question out of the way early. Where is your favourite coffee in Melbourne?
Brunetti by far. Cameron has been a fan for a long time. Our jobs require an early start and I got him hooked on instant coffee many years ago. It wasn't long before he started going after the good stuff and so he found Brunetti. I am not a big coffee drinker but I must admit Brunetti is very nice. 
How are you finding the Melbourne startup scene?
In all honesty we have not yet mingled with people in the scene. Basically, we had a vision for a service we wanted to exist and proceeded to spend two years building it. We spent every night working on it after our day jobs. Once we were happy with the back end side of things we proceeded to empty our bank accounts in order to purchase hardware, setup the company, etc.
We were literally working from Cameron's garage and a small office in my house. We had the servers and routers stacked up on an old desk and opposite the desk was Cameron's motorbike which was half pulled to pieces with oil on the floor.
Another fun fact, even though Cameron and I are both in Melbourne, the company is incorporated offshore due to silly laws Australia has. The fact we had to jump through hoops to set up a VPN company outside of Australia goes to show how little the politicians know about the laws they are passing. 
Now, what are your thoughts on the current state of Internet privacy?
We would really like to see a world where VPN services such as Oeck don't need to exist. Slowly but surely there is an ever increasing attack on the privacy of people all over the world. Government agencies spying on citizens, advertising companies using AI to create profiles of users, etc. We believe this a dangerous slippery slope and the faster we can mitigate or outright stop these actions, the better the world will be for it.
What are your biggest traffic channels in the mean time?
At the moment Whirlpool provides most of our traffic. We have a presence there and the community really made us feel welcome when we were building Oeck. We try to interact with the community on a daily basis. OzBargain also provides traffic from time to time, as well as Reddit and other niche communities we interact with.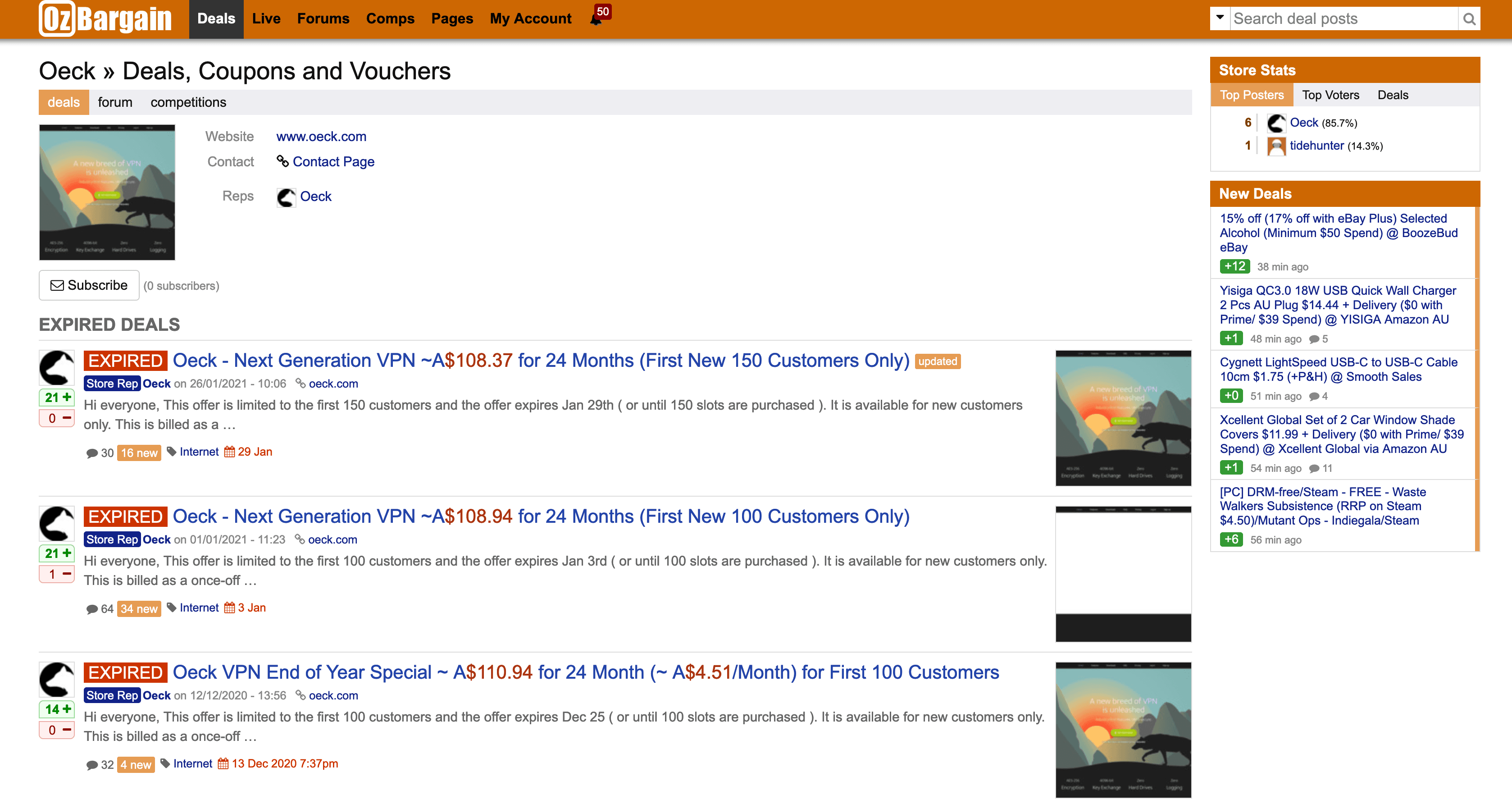 How has your organic traffic grown? What's been the biggest driver?
We are still a small startup and our traffic is relatively low. However, Whirlpool provides traffic as we are fairly active in that community. We also did a successful AMA on reddit recently and we managed to get some traffic from our reddit post.
We are also seeing more and more customers signing up from word of mouth. This is, in our opinion, the best source of traffic as it is letting the product speak for itself. 
We always tell our SEO clients, hang out online where your customers do! How are you utilising this strategy? 
This is probably the best single piece of advice an SEO agency can give to their customers. There are many niche communities on the internet which offer great opportunities to new businesses. As an example, Oeck has participated in a broad range of online communities such as Australian Frequent Flyer, Coffee Snobs, and others. None of these communities really share anything in common, however all of them have potential customers for our service.
It is really important for businesses to put themselves in the spotlight as much as possible when trying to grow traffic. SEO and advertising is important, but interacting with people and participating in activities that other people are passionate about is also really important - and fun!
Some of these online communities are brutally honest, how would you recommend another startup approach them? 
Spend some time on the communities and figure out how you would like to represent the company. Will you be formal? Will you add humour to your interactions? How do you want to come across?
One you figure out what 'personality' your company is going to have, you simply draw a line in the sand and make sure you stay behind the line. That will determine which communities you should participate in and which you should not.
It is always good to 'give back' to communities when you can. Be it participating in discussions or activities not related to your business, or providing special discounts to members of that community. The little things tend to make all the difference.
At the end of the day, you may get a troll or two who you ignore, but if people are sharing their opinion on your product (regardless of how brutal it may seem) it is always good to listen to what they have to say. If you agree that they have made a good point, you should look over options as to what can be done to fix the problem.
Where has this strategy backfired?
We did make one slight error with a gaming forum (RPG). We didn't really spend much time interacting on the forum prior to advertising with them. We quickly found out the community there was fairly hostile and far from politically correct. So we went with the spirit of the community when interacting with the users. We ultimately ended up gaining the respect of the users (at least as much respect they had to offer). If you have time for a bit of a laugh you can check out the thread here. It is interesting to say the least...
Where do you see Oeck, and your industry in the next 2-5 years?
Oeck, along with other VPN services will most likely see growth in the next few years due to people slowly losing their privacy. It is not just governments who want your data. Advertising agencies want to know everything about you in order to maximise profits. This is a great thing for businesses who want to advertise their products and services, but not such a great thing for the user. When companies know everything about you, it quickly turns into an issue of control. They control what you see, when you see it... they can even influence your way of thinking.
Taking back your privacy is very important and I think people are waking up to this fact. As such there has been a growing interest in privacy related services and I think this trend will continue.
Bonus question. We went digging and found a secret puzzle in your website source code. Any hints?
It is very simple! We have had people reinventing maths to try and solve it. The best hint is a 6 year old can eventually figure it out!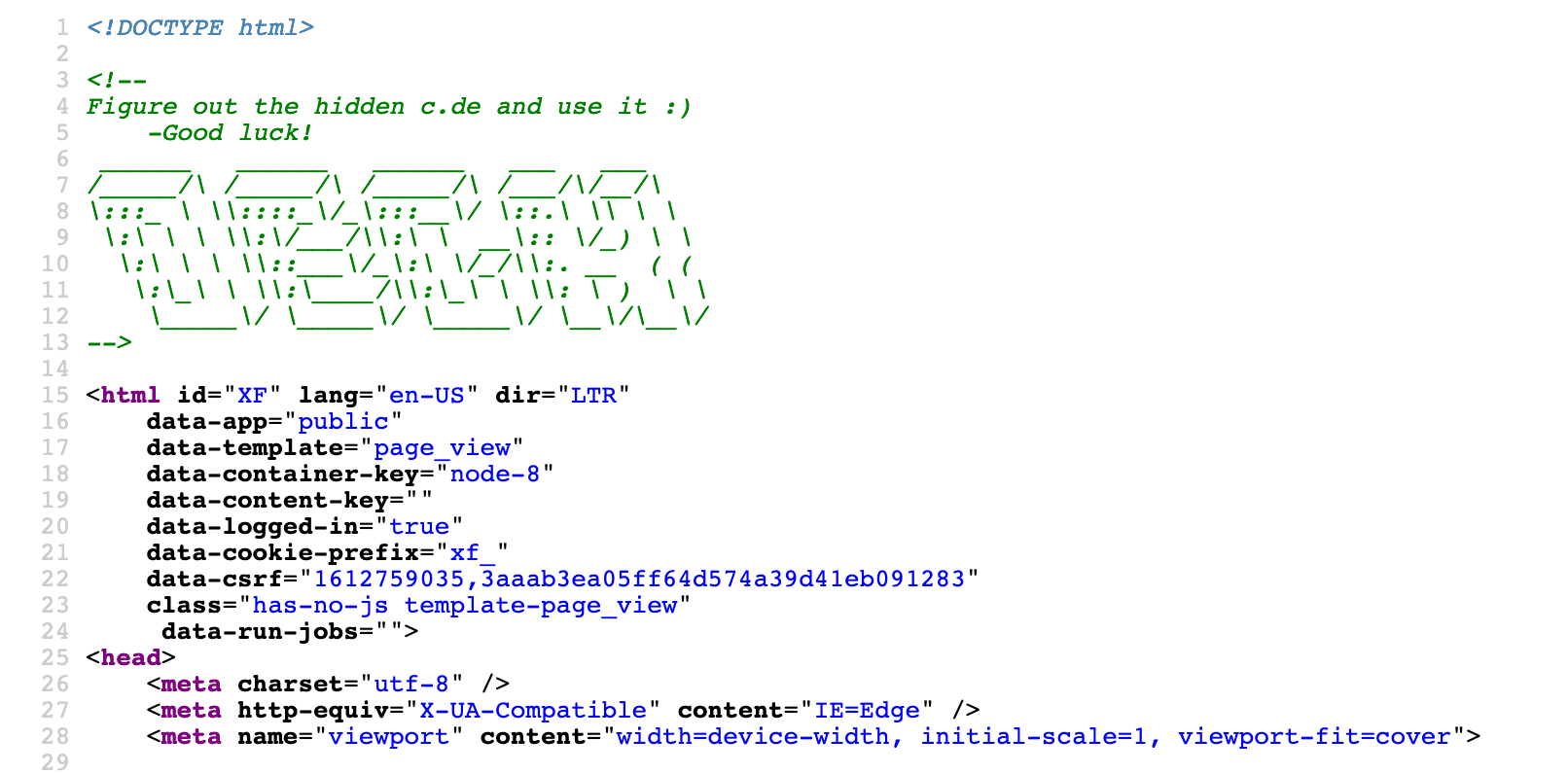 ---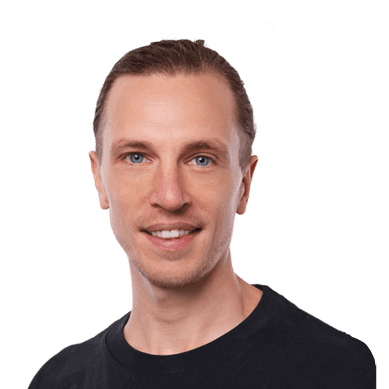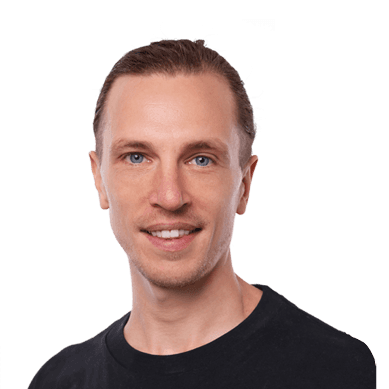 Daniel Zuccon
Co-Founder & Operations
With over 20 years experience in the industry, Daniel has produced an extensive number of web projects for some of Australia's largest brands. His passion and interest for web development originated from building his first website in 1998 (in exchange for a skateboard, no less!) to running many successful boutique eCommerce stores and large online communities.
Since then, Daniel has made the leap of co-founding Optimising, the specialist SEO Agency that we know today. From its humble beginnings, the team has grown from a two-man enterprise to a large core team, growing into a highly respected digital agency.
We value purpose over profit and take action.
Our values and beliefs have always set the tone and approach to our business. It's not just enough to grow as a company and produce profits, we have a global responsibility to make our economy more inclusive and sustainable. As both a B Corp and a member of 1% for the planet, we have further cemented this purpose within our organisation.
However, our work isn't done quite yet. For Optimising, this is simple the start of our journey towards building a better business and world!
Find out more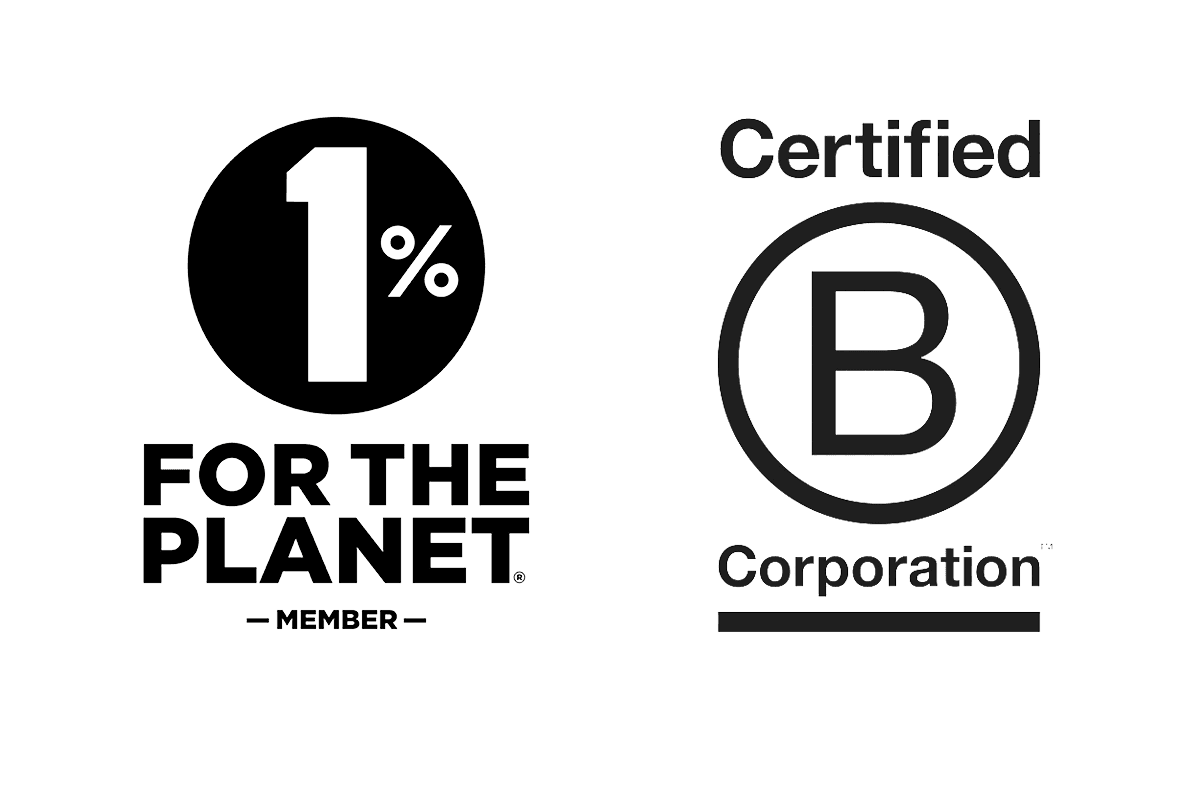 Partner with
the real deal
Chat with us today and we'll get you the results you deserve.
We acknowledge the Wurundjeri Woi Wurrung people as the Traditional Owners of the land now known as Richmond. We pay our respects to Elders from all nations - and to their Elders past, present and future.
Optimising is committed to cultivating and preserving a culture of inclusion and connectedness. We are able to grow and learn better together with a diverse team of employees.