Skip to content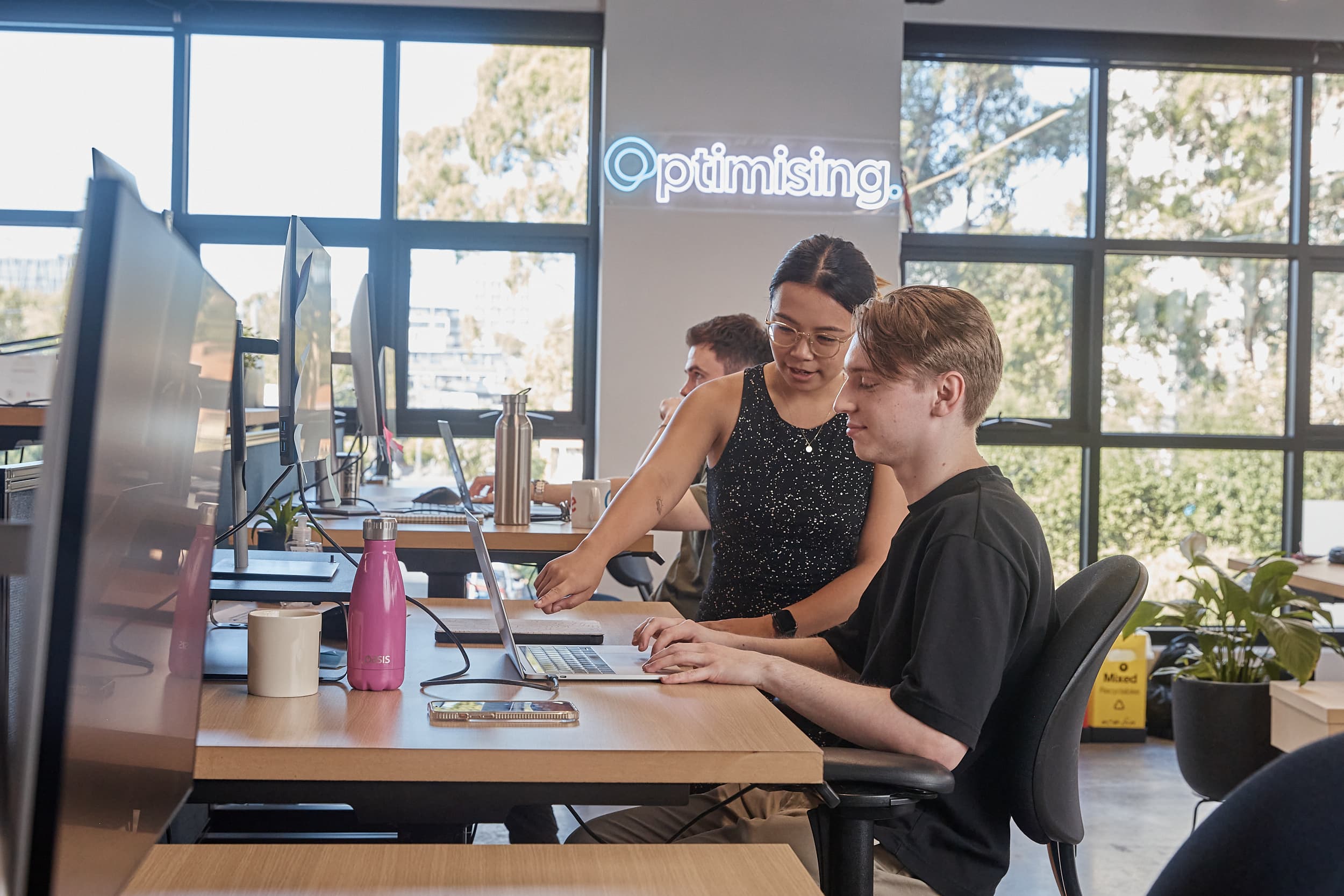 The Optimising guide to broken link building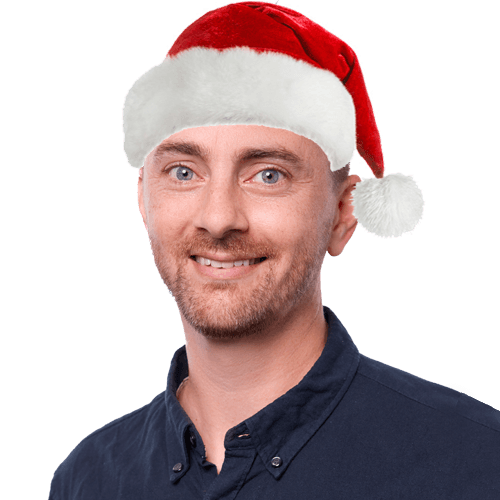 James Richardson
Co-Founder & Partnerships
Let's say you're a Webmaster and you've just received a cold email. Which pitch do you find more persuasive?
"Hey, want to link to this awesome new resource I created?"
OR
"Hey, I noticed you link to this awesome resource, but it's no longer around. Here's an updated resource that's even better. Want to link to this instead?"
Both of these pitches are asking for links, but one provides a much greater incentive. You've been given the content as well as a reason to update the page. Hooray! Someone else has done the hard work for you.
This is why broken link building is such an effective tool for SEO, it's much more persuasive. Better still, if your site already has a few good resources (it might be a how-to guide, an infographic or a tool for example) you can save a ton of time. Instead of constantly creating new content, you're generating new links from work that's already been done.
In this step-by-step guide, I'll show you how to use broken link building to get more links in less time. We'll cover how to find and assess broken links, how to pitch your content as a replacement, and how to create a new piece of content if you have nothing appropriate to pitch.
Before we begin, you'll need to download a couple plugins to use with Google Chrome:
Also, create an account with Ahrefs - we'll use this later.
Part 1 - How to Find Broken Links
There are a few ways to do this, we'll cover the simplest first.
The Quick Way
Step 1 - Search for Resource Pages
To start, you want to find websites that provide plenty of external links to competitors in your niche. Links are often grouped on pages titled 'Resources', 'Links', 'External Sites', 'Suggested Websites' or similar. Pick a broad keyword to begin the search, if you were a plant nursery you might try 'gardening'. Add the parameter 'intitle:resources' to the search query and Google will only return gardening pages that have the word Resources in the title.
You can learn many more advanced search parameters like 'intitle' in this post. Another worth trying is 'inurl:', which returns results with a specific keyword in the URL. It's also a good idea to restrict results to your country, or add your city to the search query.
Step 2 - Check for 404 Errors
Once you've found a page full of links. Use the 'Check My Links' plugin to find broken pages returning 404 errors.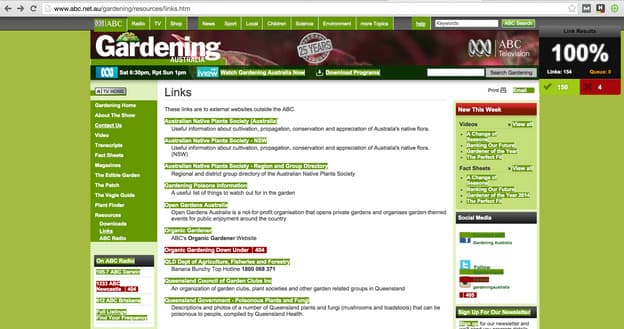 Here's a great opportunity to replace a resource about Organic Gardening. However before we talk about how to approach Gardening Australia magazine, let's figure out how to do this in bulk.
The In-Depth Way
Step 1 - Expand Your Search
Try a variety of keywords and search parameters as earlier, but before you hit return, change your search settings to show 100 results per page.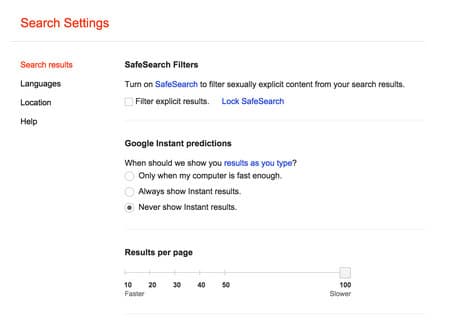 Now turn on the Moz toolbar and export the results to a CSV, which you can open in Excel.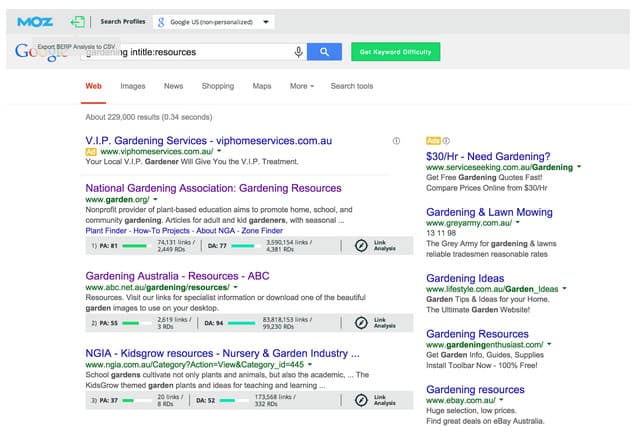 Do this a few more times for different keyword variations and combine the results into one spreadsheet.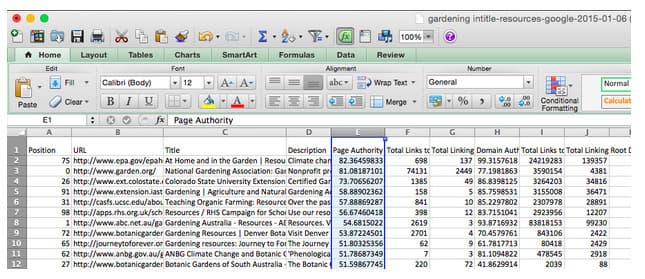 Step 2 - Refine the list
Now we need to prioritise our list of targets, so hit Sort and reorder the list by page authority (highest to lowest). This gives us a rough idea of how valuable a link on each page will be. Ultimately, the relevance of the page content is more important than page authority, however when you're dealing with lots of data this is the next best thing.
Next, get rid of any entries with a page authority of 10 or less and use the remove duplicates function to delete multiple entries of the same website.
Step 3 - Open each page
Finally, it's time to open each site and see which links are broken. You may need to open quite a few tabs on your browser, but unfortunately there's no shortcut for this, you need to see the context of the page and the anchor text of the broken link to determine whether it's something you can replace.
Don't bother with a site if a majority of their links are broken or the content looks severely out of date, it's a sign that no-one's around to update the site. Also consider whether other barriers will prevent you from gaining a link. eg. Are they affiliated with a competitor? Do they only link to sites within their network?
Part 2 - How to Approach Webmasters
Here's the part that requires some skill. So you've found a site with a broken link that previously pointed to a site similar to your own, how do you approach them?
I'm not going to give you a templated email to copy and paste. They're way too easy to spot and your conversion rate will be terrible. You have tailor a different email for every prospect
Get to the point
Mention the broken link in the first sentence, then tell them who you are and what they should link to instead. Marketers and Web Admins are time poor, they're not interested in a story.
Don't ask, suggest
People are far more likely to link to you if they feel they made the decision themselves. Offer your link as something to consider and remind the webmaster that it's their choice to link. This approach is much less needy and more respectful than as desperate 'please link to me!'. In fact, avoid please and thank you all-together. These words make your helpful offer sound like a one-sided request.
Say what's in it for them
Be specific about this. Is your site or resource more up-to-date, in-depth or user friendly, do any prominent sites also link to it?
Be honest
Don't pretend to be a random browser who 'just stumbled on your site', say which site you really work for.
Part 3 - What to do if you have no content to pitch
Time to start writing!
Before you create a new resource from scratch, or repurpose something you've already published, here are some tips to make it as link-worthy as possible.
Check the original page they linked to
Place the link in the Wayback Machine, and with any luck you'll be able to see the page before it was moved or taken down. DON'T use this as an opportunity to plagiarise, plenty of webmasters know about the Wayback Machine too! Use it to ensure that your content is at least the same quality. If you find a great point you've missed, rewrite it in your own words and try to contribute something new.
See what content is performing the best
If you're creating something new, you want to make sure other people are likely to link to it too. Buzzsumo is a handy tool that will show you what content is attracting the most attention on social media for a particular topic. As with the Wayback Machine, it's a starting point for ideas, not a well to draw from.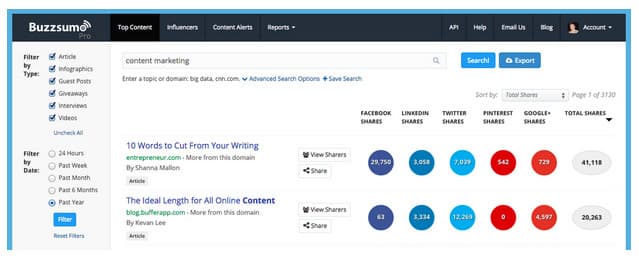 Part 4 - Bonus Tips
Find out who else is linking to the broken page
In most cases, a link will be broken because the page was moved or deleted. This means there's a chance that other sites are linking to the same broken page. Ahref's Site Explorer tool and Moz's Open Site Explorer will both tell you exactly which sites and pages are linking to the same piece of content.
Remember the broken link in the first example from Gardening Australia Magazine? By placing this in Ahref's Site Explorer and clicking on 'Referring Domains' under 'Inbound Links', I found two other sites linking to the same broken page. Our single opportunity is now three.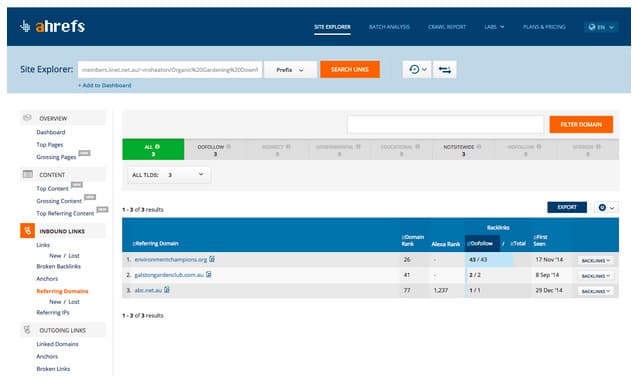 Monitor your Competitors
What's even better than finding an ideal broken link? Knowing where a whole lot are going to appear ahead of time.
If you keep a close eye on your competitors, it's easy to find out if one is closing down, rebranding or being bought out by a competitor. This often results in new domains and plenty of broken links to redirect.
Create Google Alerts for as many of your competitors as possible and monitor industry news. If an event causes your competitor to move domains, and you can provide equally valuable content, use it as an opportunity to reach out to sites that previously linked to them.
---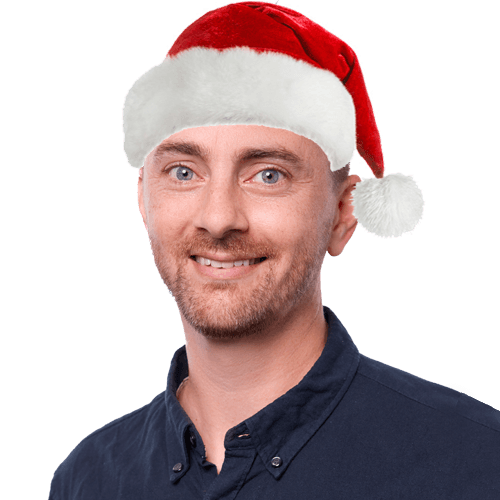 James Richardson
Co-Founder & Partnerships
Working in the SEO industry for many years alongside some of Australia's biggest brands, James started his online career running online Sports Fan sites, as well as cutting his teeth on several successful eCommerce brands and content sites.
Previously holding various senior roles across the Sales and Marketing teams for ASX listed companies, he went on to found Optimising with Daniel and is proud he has helped mould it into one of Australia's leading SEO agencies.
When he's not in the office he's at home having pretend tea parties, or building a cubby house in the lounge room with his three young girls.
We value purpose over profit and take action.
Our values and beliefs have always set the tone and approach to our business. It's not just enough to grow as a company and produce profits, we have a global responsibility to make our economy more inclusive and sustainable. As both a B Corp and a member of 1% for the planet, we have further cemented this purpose within our organisation.
However, our work isn't done quite yet. For Optimising, this is simple the start of our journey towards building a better business and world!
Find out more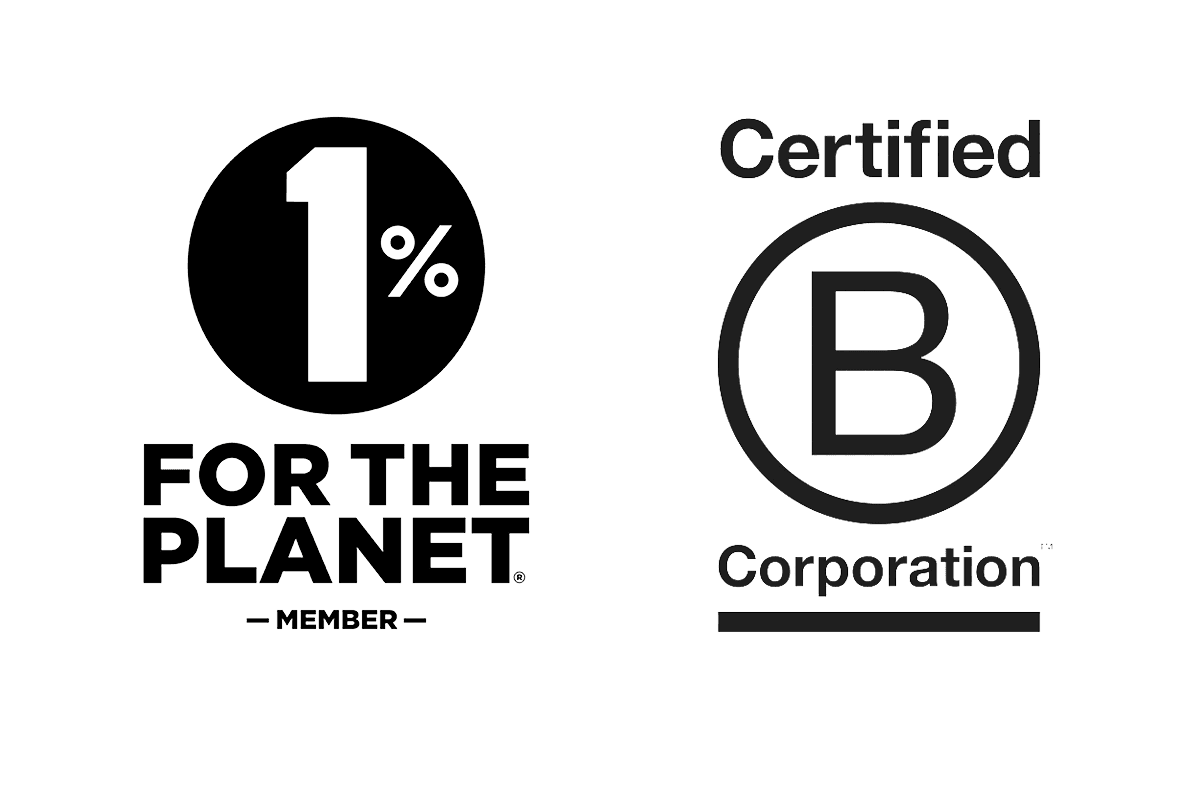 Partner with
the real deal
Chat with us today and we'll get you the results you deserve.
We acknowledge the Wurundjeri Woi Wurrung people as the Traditional Owners of the land now known as Richmond. We pay our respects to Elders from all nations - and to their Elders past, present and future.
Optimising is committed to cultivating and preserving a culture of inclusion and connectedness. We are able to grow and learn better together with a diverse team of employees.