Skip to content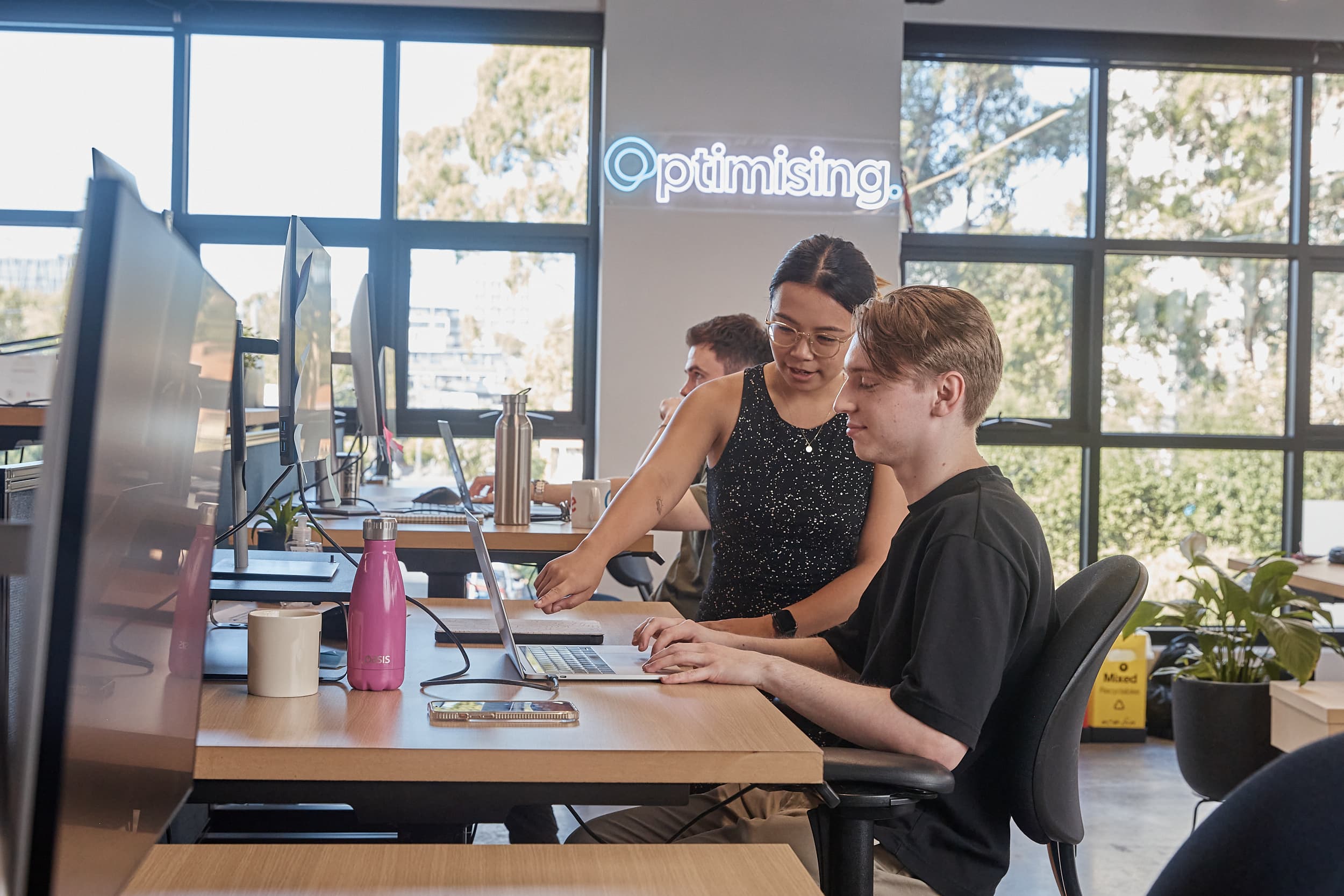 Do you have the right content strategy?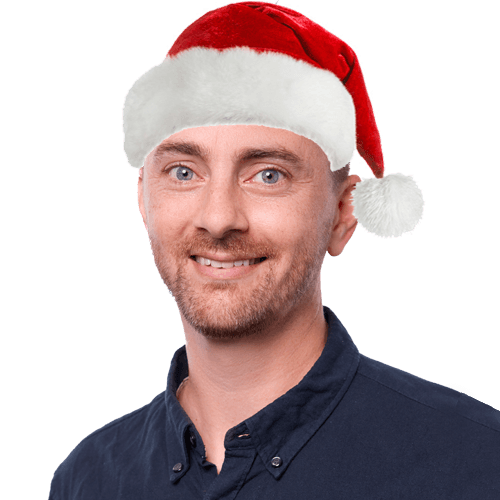 James Richardson
Co-Founder & Partnerships
Is Content always king?
The answer is complicated...
This is a guest blog post by Andrew Cox from The Hope Factory, a leading Shopify Plus development agency. 
With over 12 years in the business and hundreds of amazing stores launched, they can help take you to the next level.
"Content can be the key to achieving your marketing and sales goals. However, aimless content won't cut it. You need a solid content strategy and the best time to think about is actually when you start (re)creating your site.
A content strategy will guide your plans for the what, where and when of content creation and that's something you should take into account when developing your website content. Your content can be one of the main reasons people visit your site and if it's planned as an integral part of it and not as an afterthought it will give you a competitive edge."
---
Google "content marketing", "seo content writing" or "seo writing", and you'll find thousands of pages dedicated to the topic. 
Each one of these articles will extol the virtues of content for SEO and its ability to bring you things like high quality traffic, thousands of backlinks, and authority and recognition to your site.
Because of this pro content messaging, we're constantly being asked by our clients "should we be creating more content to help our SEO?"
And really, the answer to this question is maybe. New isn't always better when it comes to your SEO content strategy. In this article, we're going to discuss why, as a part of any good content strategy, you should be looking at your existing content. 
Do you actually need to write more content?
Quality over quantity
Using Google Search Console and Google Analytics data to make informed decisions
Do you actually need to write more content?
If you are going to build content for your site, you need to be prepared to invest a good amount of time, energy and money into it. Content creation is not an easy or a quick strategy (when done well). Yes, it can be extremely valuable for your business, but this is a marathon, not a sprint. 
A common issue we see with our clients is the mistake of churning out multiple pieces of content, under the guise of "being productive." Another common error is setting a random target of X number of content pieces to get out every week. 
What is the purpose of this content, and who is it speaking to? What value does this bring for a potential audience? Why do you want this on your site? If you don't know the answer to these types of questions, you may need to rethink your piece. 
Instead of setting arbitrary content goals, we would always recommend being strategic about what content you are creating and why. 
Like we said earlier, content creation is time consuming, and this is why it's so important to constantly be reviewing, updating and expanding your existing content. There is no point in smashing out 10 crappy articles, when you could instead potentially strengthen an existing, underperforming piece of content. Not to mention, updating one article and keeping it relevant is far easier than 10! 
Quality over quantity
Writing 1000 words is hard. Writing 2000 words is harder! But adding 1000 words, or creating video content, or a graphic to add more value to an existing piece is a quicker, easier process. We know in 2020 that Google is constantly adding new types of search features, and it isn't uncommon for featured snippets to be in video or image formats. 
In addition to this, consumers are demanding more ease of access to their information than ever! Not every visitor is going to want to watch a video, and likewise others won't want to read. By expanding and offering content that can be consumed in a variety of ways, you are strengthening the value of this content for your audience. 
This is why, particularly for your existing, high performing pieces of content, we would recommend revisiting these to see how you can improve them. Is there further detail that can be added in? Are there alternate resources, or pages on your site that relate to these that you can link to?
Google and other site engines want to give their users the best experience they can. Make sure that visitors to your site get exactly what they need, and this will in turn  get you exactly what you need - a stronger presence in search engine results pages.
Using Google Search Console and Google Analytics data to make informed decision
There are a number of benefits to working on existing content for your site. The most obvious reason is - you already have the topic. 
Another huge benefit of reviewing your existing content is that you can make informed, data driven decisions about where to focus your content creation resources. 
Here are a few ways you can use Google Search Console and Google Analytics (both free tools) to identify which content pieces you should be prioritising. 
Google Search Console
Once you've verified your site with Google Search Console you can use this to look into how your content is performing. 
1. Head to Performance on the left hand side of the page 

2. Add a new Filter option by selecting the (+) sign, and select Page. Here you can refine by page type. Let's assume you're looking at your blog content. Here, we want to refine the URLs by their structure, so input /blog/ (or /content or whatever structure your site follows).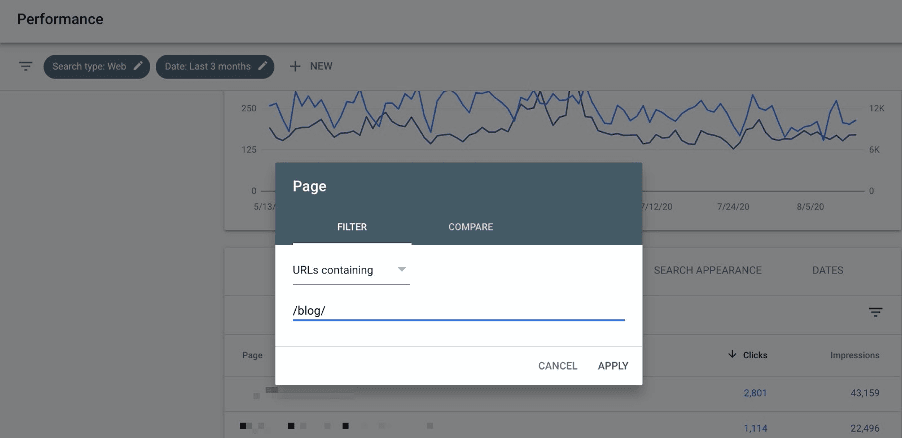 3. From here, you can see how the /blogs for your site are performing.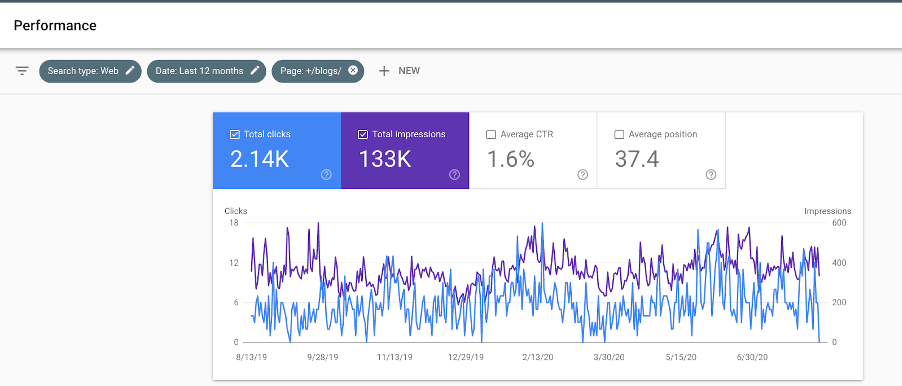 4. As we can see from these results, this client received around 135,000 impressions over the past 12 months, and around 2,140 clicks. You can now sort by Impressions to see which of your pages are underperforming, which can help you identify some blogs to inspect more closely. 
5. Choose a page to inspect more closely. We're going to look more closely at the second post that received 685 clicks. While this data can also be used to identify poorly performing meta titles and descriptions (high impression, low clicks), what we actually want is to identify ways to improve the content on pages that are getting good amounts of visitors. We want to do this to turn these visitors into conversions!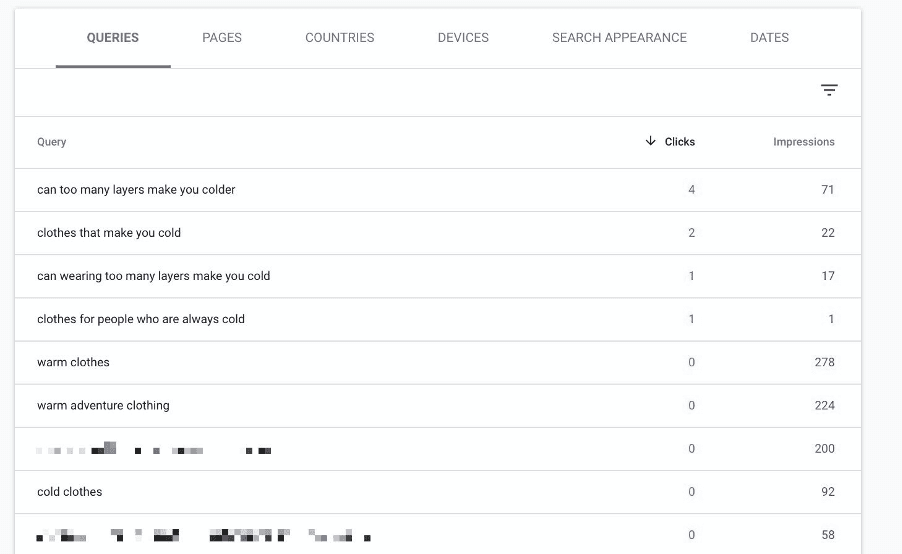 Once you've chosen a post, select Queries at the top of the page. Here, you can see what kind of queries were used to find your page. In the example above, the types of phrases give you an idea of the search intent these visitors have - the most effective clothing to wear to keep warm. Layers, or no layers? What are the pros and cons of different thermals for adventurin perhaps. These search queries can help you identify missing topics in your content pieces. 
Google Analytics 
While Google Search Console can help you find out some of the search intent and performance from a search engine perspective, what Google Analytics can provide you with is more detailed information about how your visitors are interacting with your content. 
1. Head to Behaviour on the left hand side 
2. Select Site Content >>Content Drilldown and you should see a view like the image below.

3. Depending on how your site is setup, you'll see a number of Page Path options. 
4. Since we are interested in the performance of your /blogs/ in this example, select /blogs (line 6.) from the options.

5. From here, you can identify which of your posts are performing well, through Page views, the time spent on page, or the bounce rate. 
Depending on your goals, you will need to decide where you want to focus your efforts. An eCommerce website will have different goals to a news site. 
For example, a page with a low time on page and a high bounce rate may have that because it is a news article, and so your most important metric will be page views. 
The advantage of Google Analytics is that you are getting accurate data about your users information. This can be valuable for not only identifying potential pages to work on, but also to track your progress as you work on content. 
How to apply this?
The biggest thing to remember is you need to be using different tools in conjunction with each other, and applying your knowledge about your business goals in the process.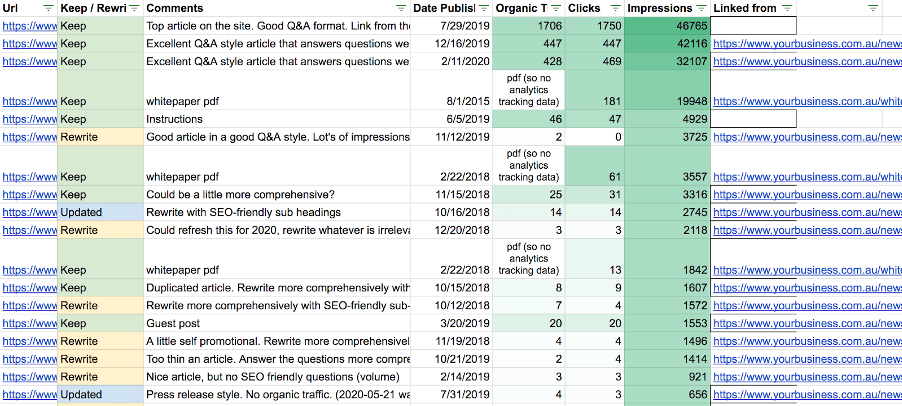 There is no one tool that can give you the answer to your site's problems. By using Google Search Console and Google Analytics, you can identify existing content that present opportunities for improvement. What we would suggest is then consolidating this research into a spreadsheet like above, and using the data you have to inform your decisions around your content. 
Content creation is a tough, but necessary part of the process of building your sites profile and authority for Google and other search engines. 
Good luck!
---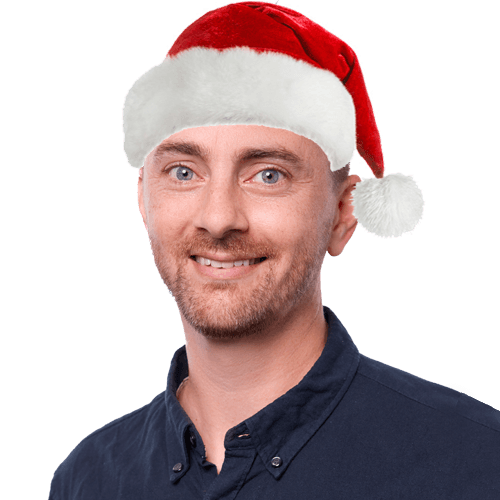 James Richardson
Co-Founder & Partnerships
Working in the SEO industry for many years alongside some of Australia's biggest brands, James started his online career running online Sports Fan sites, as well as cutting his teeth on several successful eCommerce brands and content sites.
Previously holding various senior roles across the Sales and Marketing teams for ASX listed companies, he went on to found Optimising with Daniel and is proud he has helped mould it into one of Australia's leading SEO agencies.
When he's not in the office he's at home having pretend tea parties, or building a cubby house in the lounge room with his three young girls.
We value purpose over profit and take action.
Our values and beliefs have always set the tone and approach to our business. It's not just enough to grow as a company and produce profits, we have a global responsibility to make our economy more inclusive and sustainable. As both a B Corp and a member of 1% for the planet, we have further cemented this purpose within our organisation.
However, our work isn't done quite yet. For Optimising, this is simple the start of our journey towards building a better business and world!
Find out more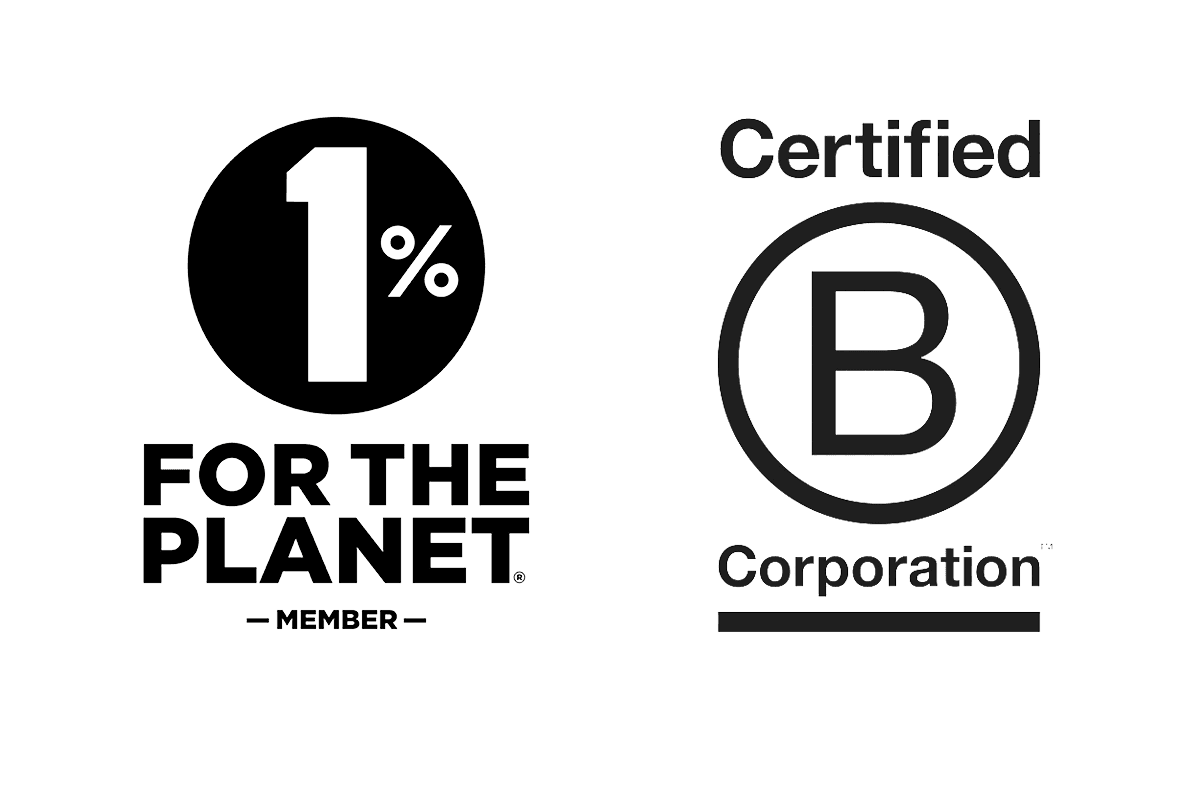 Partner with
the real deal
Chat with us today and we'll get you the results you deserve.
We acknowledge the Wurundjeri Woi Wurrung people as the Traditional Owners of the land now known as Richmond. We pay our respects to Elders from all nations - and to their Elders past, present and future.
Optimising is committed to cultivating and preserving a culture of inclusion and connectedness. We are able to grow and learn better together with a diverse team of employees.