Skip to content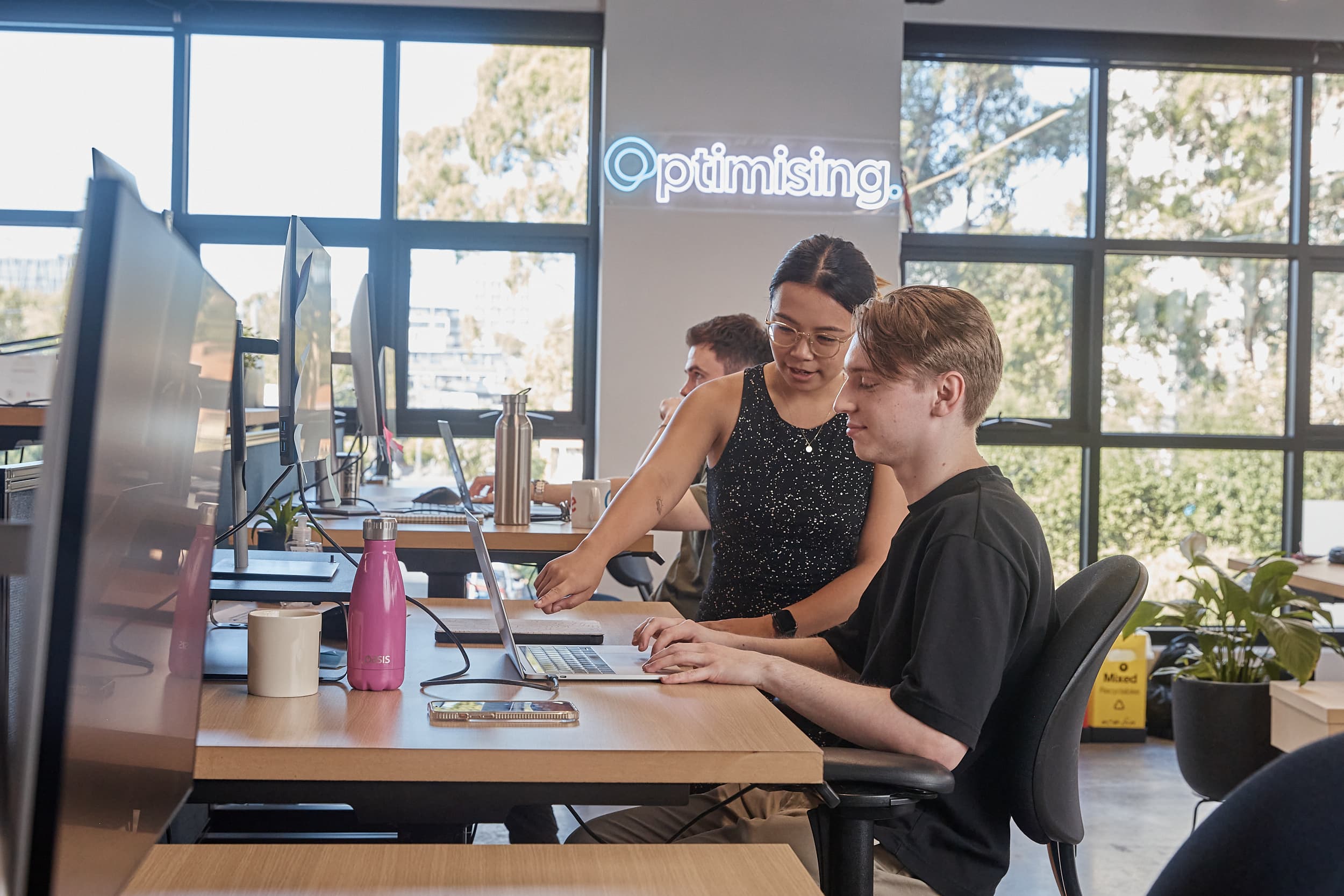 How to master 'Google My Business'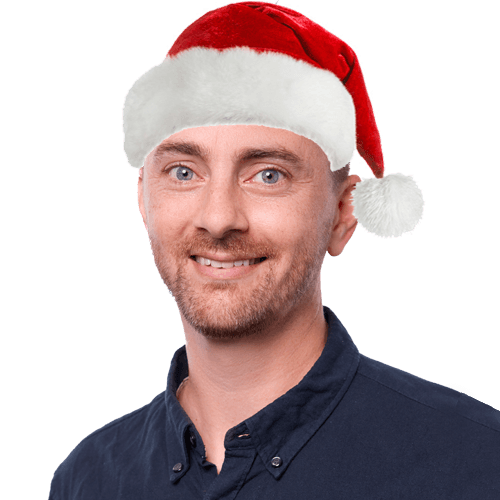 James Richardson
Co-Founder & Partnerships

Google Maps listings are at the top of search results for virtually any keyword you'd use to find a local business. Yet when it comes to SEO, we spend almost all our time worrying about where our homepage ranks. If you really want to maximise your online visibility, you should know as much about optimising your Google profile as you know about optimising your normal website. Many business owners think correct contact details and reviews is all there is to it, but there's a lot more to learn. Follow these steps to master Google My Business (the platform for managing your Google Maps profile) and you'll get the most out of the service that the search giant is making ever more prominent.
Step 1 - Verify your listing and sort out your account holders
You can't manage a listing that don't have control of. If your listing is unclaimed (I.e. 'Own This Business?' appears at the bottom) click the link to go through the steps to verify your ownership. Google usually send a postcard to the listed address to do this, but you may get lucky and be able to verify by answering a phone call to the listed number, or by receiving an email. The methods they offer vary for each business.
If there's no option to claim your listing, it's probably been verified already, often by an old employee or perhaps one of your marketing suppliers. In this case, log in to Google My Business (GMB) at https://business.google.com and follow the steps to add your business to the platform. Entering your business name should bring up the existing listing, and from there you can request access by having an email sent to the person who set it up.
Unlike a social media profile, which usually has one set of login details, a GMB listing can be accessed by multiple people, who have different levels of access. The two levels you need to know are Account Owners and Account Managers. Managers are subordinates can edit the listing, whereas the Owner is the boss, who can both edit the listing and control which Managers have access to it. If you know who claimed your listing, it's easiest to ask them to make you the Account Owner or send them these instructions.
Bonus Tip:If your brand has a YouTube channel and you know who set it up, get access to this at the same time. The person who set it up can transfer ownership at https://myaccount.google.com/b...
Step 2 - Clean up old and duplicate listings
If you've had several addresses your old premises may still be on Google Maps. It can be tempting to leave these online. If you're not worried about clients driving to the wrong address, your business can show up more often in more places right? While that's somewhat true, your old listing will become much less visible, particularly when Google notices the address is no longer on your website and directories, so there's no huge advantage. Your reviews will also be spread across multiple locations, lessening the impact they'd have if they were all on your current location.
You can update your old or duplicate locations by clicking 'Suggest an edit' at the bottom of the listing and entering the new address, or by flagging it as permanently closed and selecting the relevant option. If the old location has reviews Google may let you transfer them if you contact the GMB help team.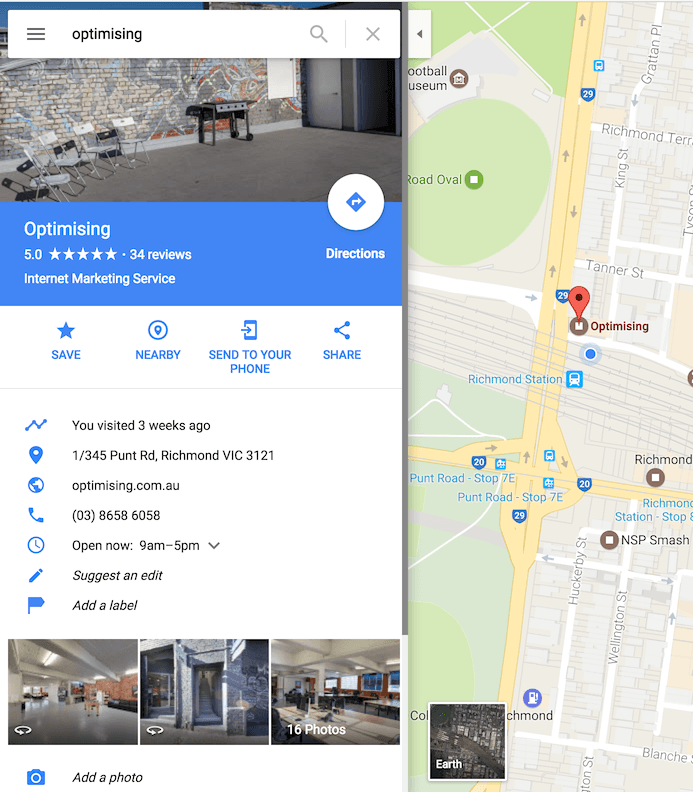 Step 3 - Make sure your details follow the guidelines
Your business name should be your real world name with no extra words (e.g. slogans, services you offer, suburbs, etc.). Unlike page titles for your website, you can't add keywords like 'Emergency Plumber Melbourne' at the end to increase visibility. If Google notices, they may correct the name automatically.
They also incentivise users to submit corrections, so keyword-stuffed business names (eg. 'Locksmiths in Auckland' below) don't last as long any more. If your competitors aren't following the name guidelines, you can submit an edit to have it corrected. While owners can't trace edits back to you, it's up to you to use this strategy in an ethical way.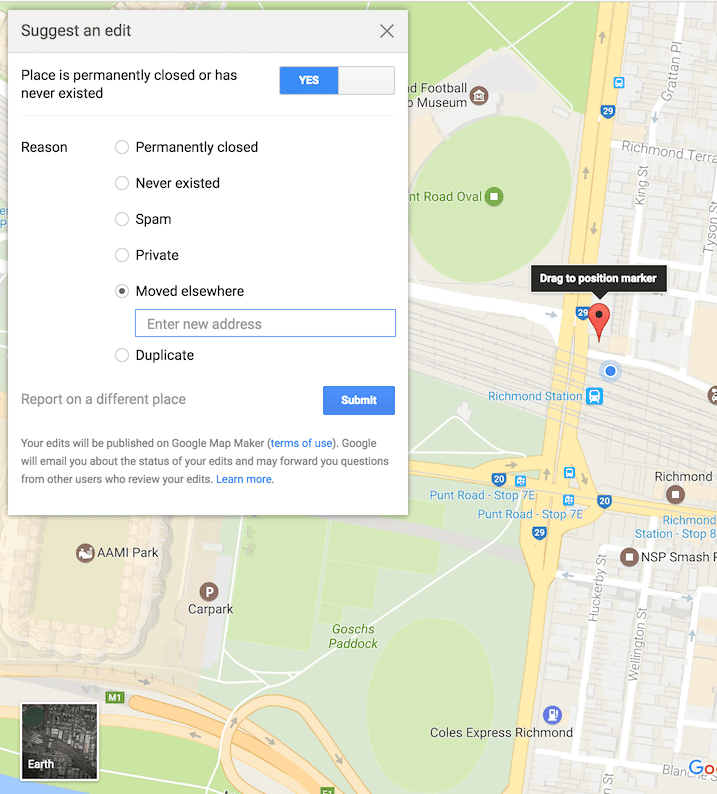 Step 4 - Make it easy to leave reviews
You probably know how important it is to encourage reviews, when you reach 5, your star rating appears on the listing which can lead to higher click-throughs. However sending customers to the right place to leave a review can be tricky. You can make it a lot easier by generating a direct link using these steps:
Visit the Google Places API and use the tool to find your business' place ID.
Paste it at the end of this URL: "http://search.google.com/local/writereview?placeid=". E.g. http://search.google.com/local...
Use Goo.gl to shorten the URL. E.g. https://goo.gl/PPYJOU
Alternatively you can direct customers to a review page on your own website (mybrand.com.au/reviews) with a big link to the URL generated earlier.
To learn how to encourage reviews without breaking Google's review policy or the ACCC's guidelines for managing online reviews blog post.
Step 5 - Track how many people come to your website via Google Maps
One of our frustrations with Google Analytics is that it tells you how many visitors came to your site via Google Search, but not what they clicked on. Do most people find your homepage in the regular search results, or are they all browsing Google Maps and clicking the link in your GMB listing? Knowing the difference is very handy, you might spend less time tweaking your meta-descriptions and more time pushing reviews.
While Google My Business does show how many people clicked on your listing (it's currently hidden away in the Insights section), the data is only kept for 90 days and isn't integrated with Analytics, which makes it a pain to monitor. A much easier way to keep track of your GMB traffic is to replace the link to your website with what's called a custom tracking URL. You can generate one using this tool. Your customers end up on the same page when they click a link that uses a tracking URL, however Analytics will treat it as a unique traffic source. You can see this in Analytics by viewing your Organic Search traffic and then selecting 'Source' as your primary dimension.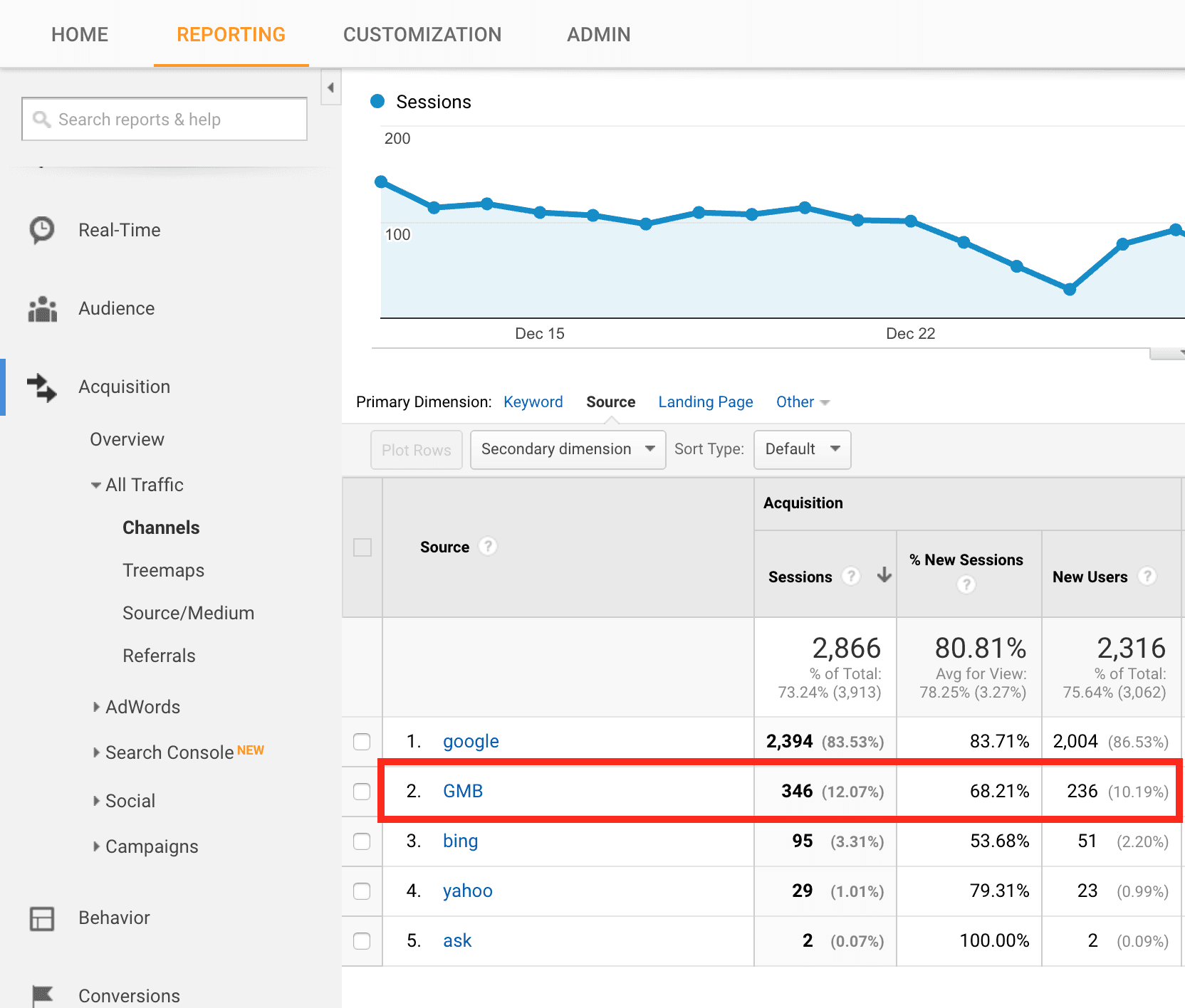 Where to look for help
Google My Business is a complicated platform that Google's continuously updating with new features and experiments. One of the best ways to get help is to ask the community on the Google My Biz forum or private message the social team on Twitter with the handle @GoogleMyBiz.
Alternatively you can ask your SEO agency, after all, it's their job to know this landscape as well as you know your own business.
---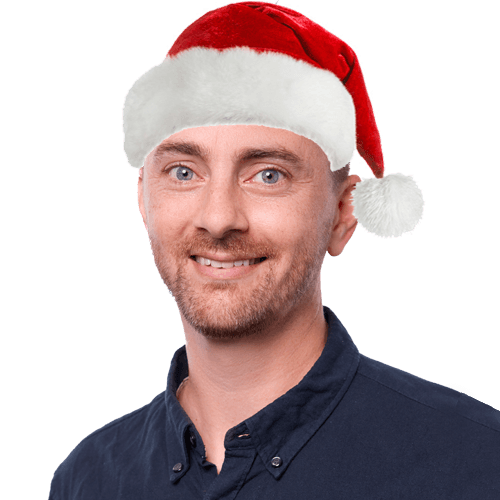 James Richardson
Co-Founder & Partnerships
Working in the SEO industry for many years alongside some of Australia's biggest brands, James started his online career running online Sports Fan sites, as well as cutting his teeth on several successful eCommerce brands and content sites.
Previously holding various senior roles across the Sales and Marketing teams for ASX listed companies, he went on to found Optimising with Daniel and is proud he has helped mould it into one of Australia's leading SEO agencies.
When he's not in the office he's at home having pretend tea parties, or building a cubby house in the lounge room with his three young girls.
We value purpose over profit and take action.
Our values and beliefs have always set the tone and approach to our business. It's not just enough to grow as a company and produce profits, we have a global responsibility to make our economy more inclusive and sustainable. As both a B Corp and a member of 1% for the planet, we have further cemented this purpose within our organisation.
However, our work isn't done quite yet. For Optimising, this is simple the start of our journey towards building a better business and world!
Find out more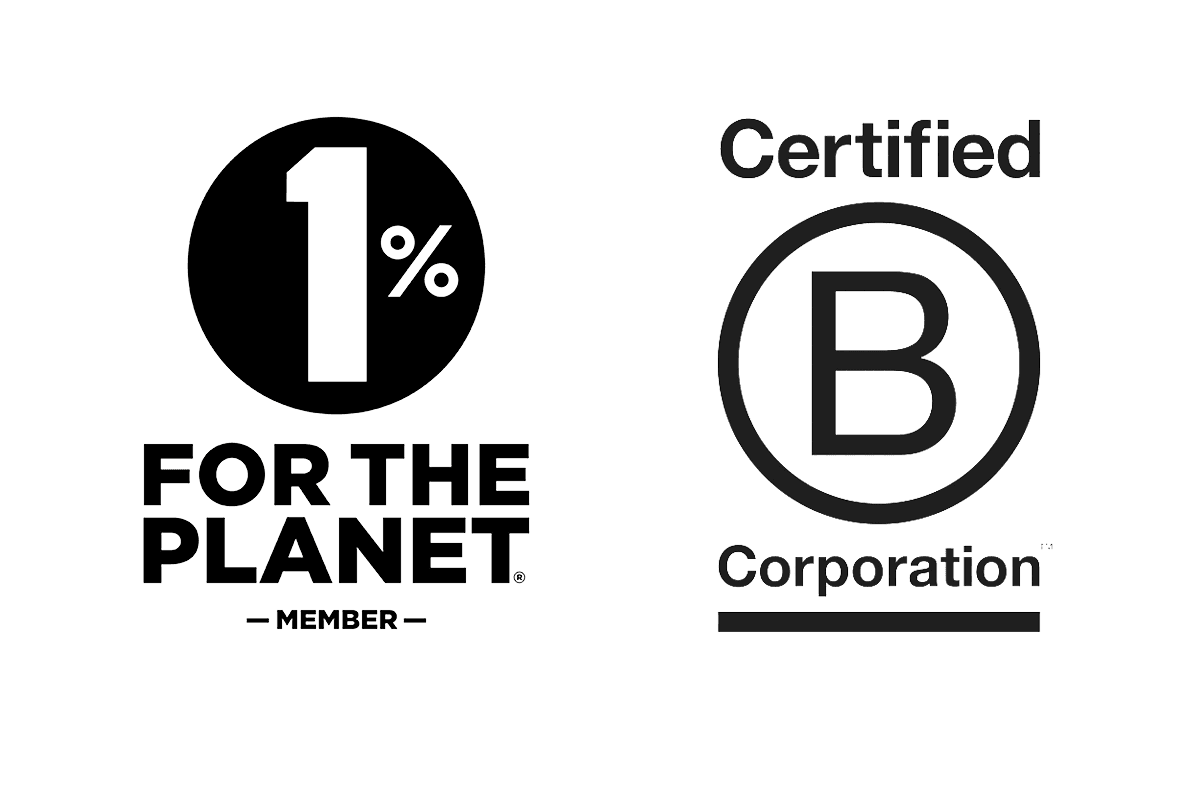 Partner with
the real deal
Chat with us today and we'll get you the results you deserve.
We acknowledge the Wurundjeri Woi Wurrung people as the Traditional Owners of the land now known as Richmond. We pay our respects to Elders from all nations - and to their Elders past, present and future.
Optimising is committed to cultivating and preserving a culture of inclusion and connectedness. We are able to grow and learn better together with a diverse team of employees.