Skip to content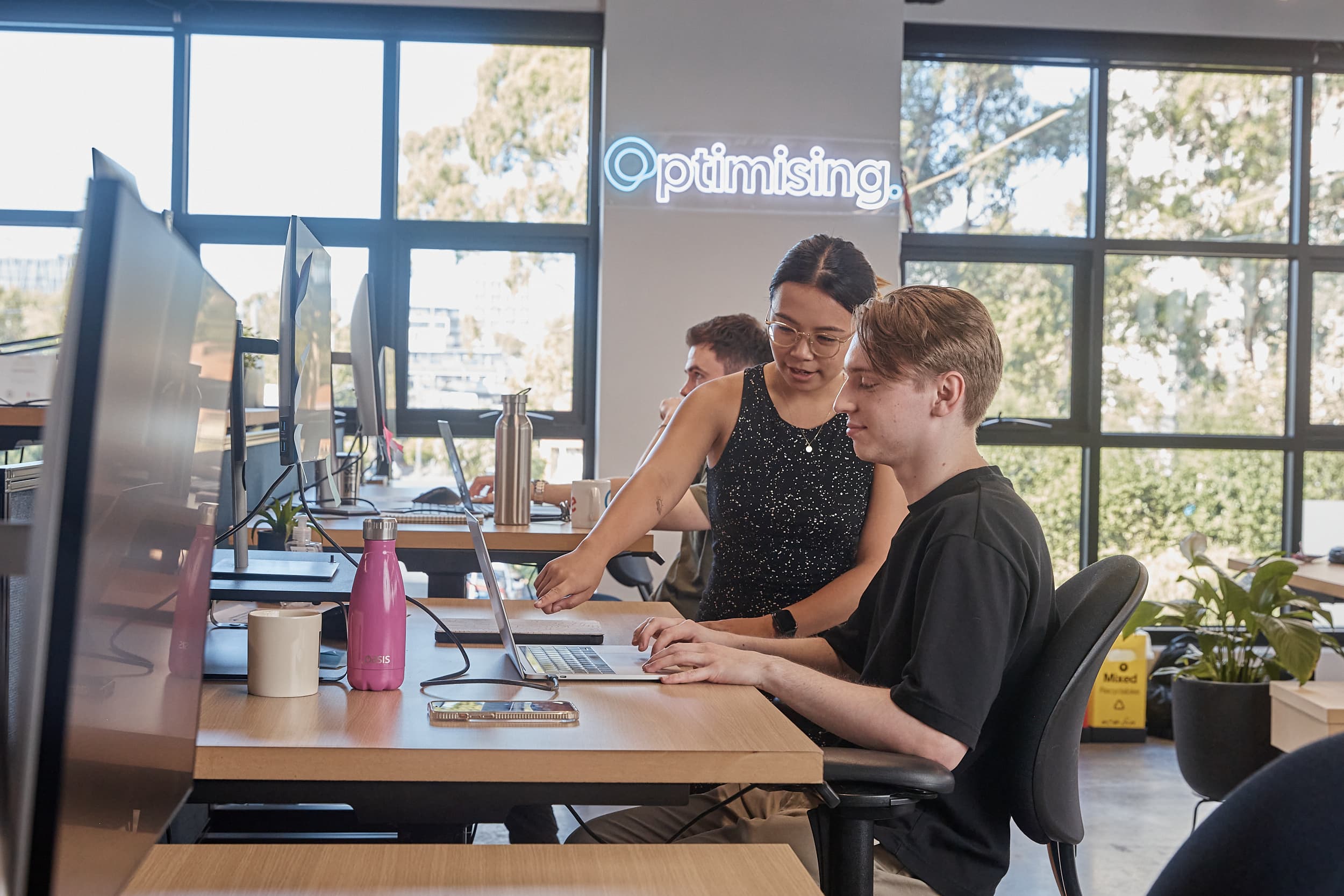 The ultimate guide to Google posts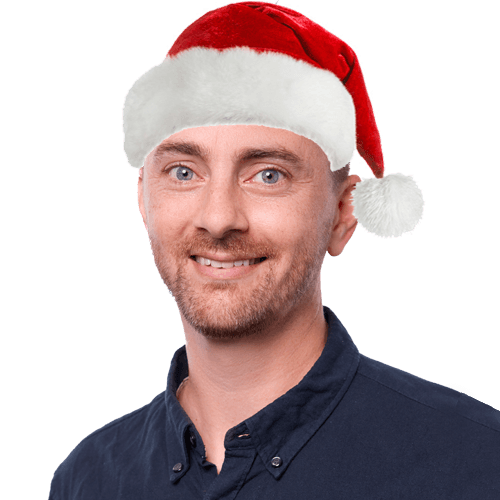 James Richardson
Co-Founder & Partnerships
You might have started to hear some whispers online about the full rollout of Google Posts (GP) - but what are they and how can you use them properly while you can?
Google is now allowing local businesses to post updates and news about their business within Google Posts, which will now display in Google Search and Google Maps results. Previously, it was limited to only sports teams, celebrities, and museums. Thankfully now all business can take advantage of this new feature to promote their events, products, or services and link to their own website content. GP allow for the use of text and images and will appear in the search results, much like what you would see on social media.
Google has stated that this feature gives businesses the ability to:
Share daily specials or current promotions that encourage new and existing customers to take advantage of your offersPromote events and tell customers about upcoming happenings at your locationShowcase your top products and highlight new arrivalsChoose one of the available options to connect with your customers directly from your Google listing: give them a one-click path to make a reservation, sign up for a newsletter, learn more about latest offers, or even buy a specific product from your website
Although you can literally post anything at the moment (and people are), Google has made the recommendation that Google Posts be used for:
Events such as a jazz brunch or an in-store session
Offers/specials such as sales and discounts
Product updates such as new merchandise
Announcements such as "Open late this Saturday" or "Special guests this week!"
I'm sold! How do I make my first Google Post?
Getting your first GP live literally takes only a few seconds (it will take you longer to come up with the idea for the post than actually making the post)
Sign into your Google My Business account and click to manage the location that you wish to make the post for
Click on the link 'Create a post"
Once you click on this, you will get a popup screen that will allow you to set all the variables for the post including text and images
Once you are happy with how your post looks, click on 'Preview', and if you are happy, click publish
Your new post will now appear wherever your Google My Business listing is showing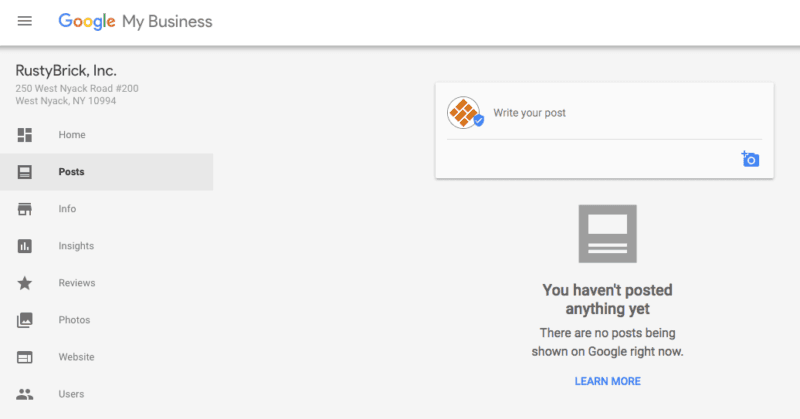 How do I make my Google Post perfect?
Google Post Images Requirements
The most eye catching element of Google Posts is the impact that the image makes from within the search results. It can really make your listing stand out from the crowd so it's important you get that right.
Make sure the photo is relevant, well shot, and with good framing
Photos need to be clear and direct, and in-focus with bright colours. At a minimum resolution of 720px tall by 720px wide, in JPG or PNG format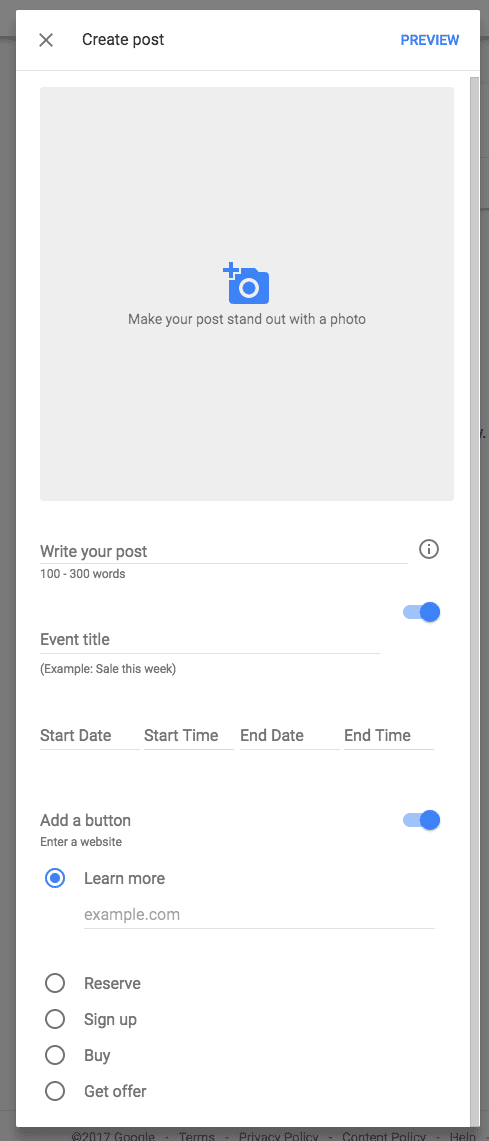 Google Post Text Requirements
Once you have the perfect image selected, it's now time to craft the perfect text to accompany it on your Google Post.
Currently you have two options with:
Normal Posts
These can be used for all sorts of reasons from company announcements, or latest blog posts, as well as new product announcements.
The requirements of these posts are:
Image (Minimum resolution of 720px*720px)
100-300 words of text (100-300 words or up to 1500 characters max)
Call to action button (choose between "Buy," "Book online," "Learn more," "Call," or "Visit.)
URL link
Event Post
Great for businesses running events, training, or sales. The addition of a title makes these posts really stand out.
Image (minimum resolution of 720px*720px)
Event Title (4-5 words or 58 characters max)
100-300 words of text (100-300 words or up to 1500 characters max)
Event timeframe (start time & end time)
Call to action button (choose between "Buy," "Book online," "Learn more," "Call," or "Visit.)
URL link
Can I see some cool Google Post examples?
Obviously this has only really rolled out in the last few days so we're only just seeing brands and businesses start to use them and push their potential.

Some final tips for the Ultimate Google Post
Be specific about what you are promoting - what are the main things your customer needs to know about? Eg. "Free Drink! Every meal purchased before 6 gets a free drink every Friday"
Explain to your customers what you want them to do. If you are selling a product you need to explain to them how they can buy! Eg,"Fidget spinners range from $1-$11 and are available in store from 9am today."
Have a USP like Free delivery? Make sure that you promote that! Eg."Free Postage on all orders over $10"
If you have a discount or promo code, make sure you explain clearly how to take advantage of it. Eg."Use GPOSTS on checkout for $10 off your first order!"
Don't use too many exclamation marks or all text in caps: Eg."Closing down SALE today ONLY!!!"
Keep in mind that on mobile devices the GP text is cut short - so ensure your key points are communicated at the start of the message.
Don't over complicate the message - keep it simple!
Updates
We have noticed this week that these posts now have an expiry date of around 7 days.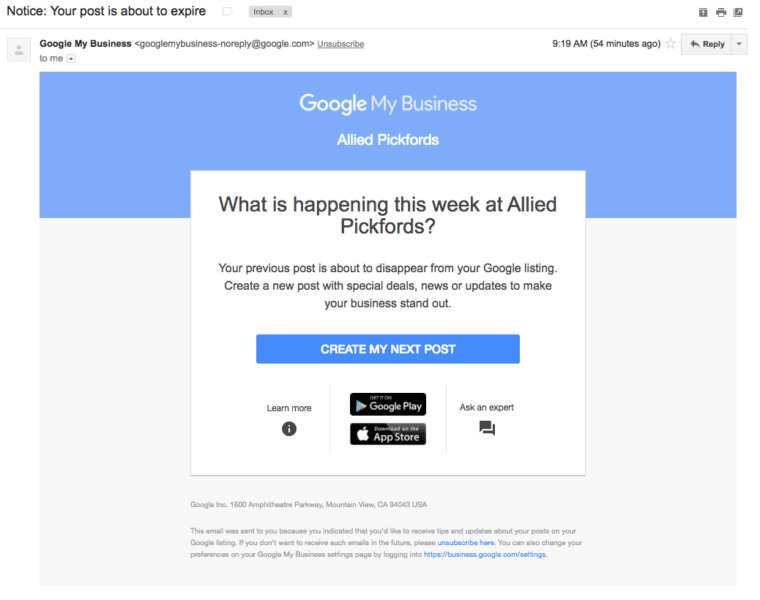 Digital Campaign Manager, Linda Dwyer commented:
"The short expiry dates indicates Google doesn't want posts about evergreen content or standard services. These posts are more intended to be about news, events, announcements, and specials, relating our businesses products and services, that will add something topical or seasonal that may interest the user."
---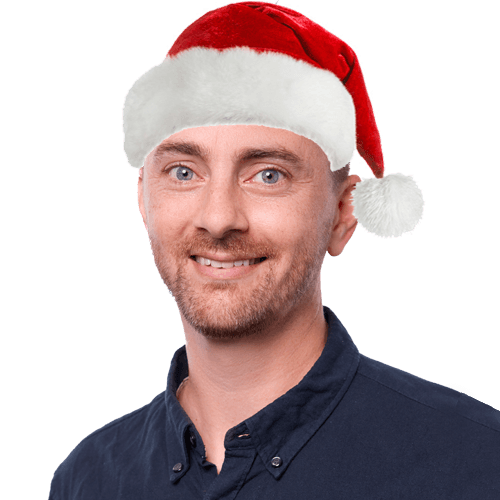 James Richardson
Co-Founder & Partnerships
Working in the SEO industry for many years alongside some of Australia's biggest brands, James started his online career running online Sports Fan sites, as well as cutting his teeth on several successful eCommerce brands and content sites.
Previously holding various senior roles across the Sales and Marketing teams for ASX listed companies, he went on to found Optimising with Daniel and is proud he has helped mould it into one of Australia's leading SEO agencies.
When he's not in the office he's at home having pretend tea parties, or building a cubby house in the lounge room with his three young girls.
We value purpose over profit and take action.
Our values and beliefs have always set the tone and approach to our business. It's not just enough to grow as a company and produce profits, we have a global responsibility to make our economy more inclusive and sustainable. As both a B Corp and a member of 1% for the planet, we have further cemented this purpose within our organisation.
However, our work isn't done quite yet. For Optimising, this is simple the start of our journey towards building a better business and world!
Find out more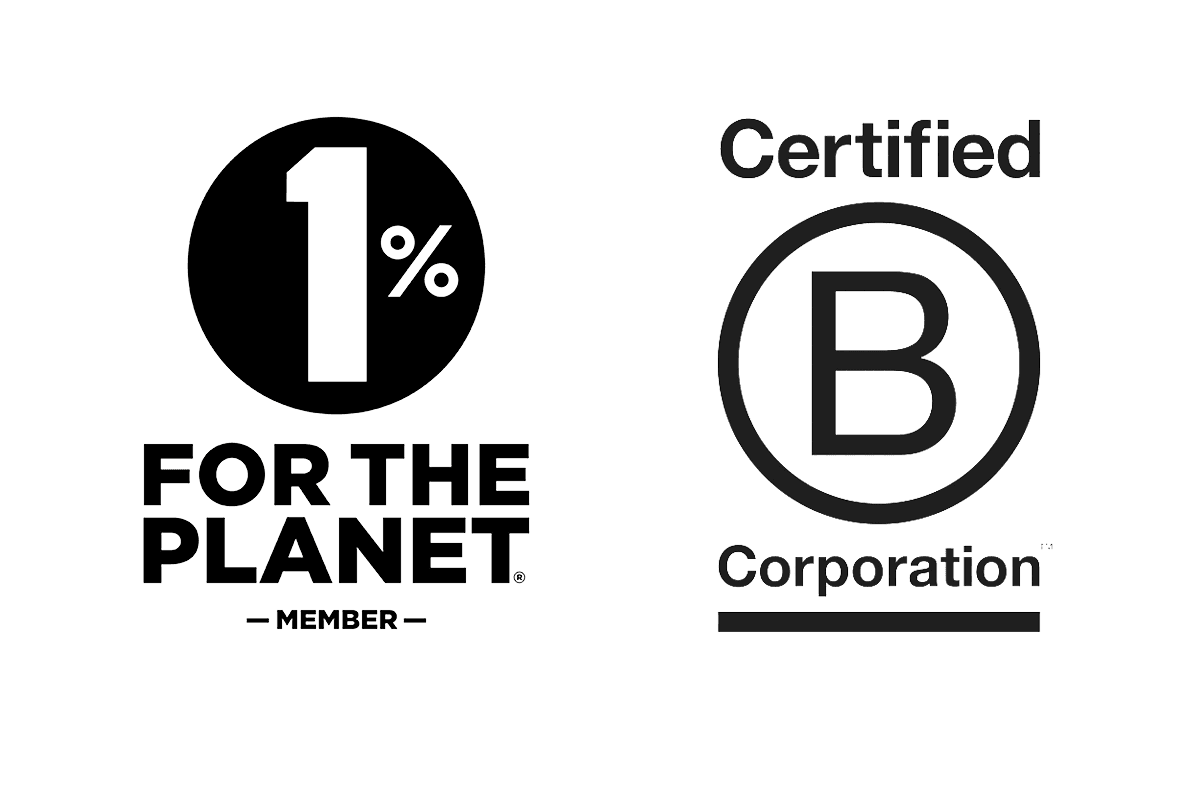 Partner with
the real deal
Chat with us today and we'll get you the results you deserve.
We acknowledge the Wurundjeri Woi Wurrung people as the Traditional Owners of the land now known as Richmond. We pay our respects to Elders from all nations - and to their Elders past, present and future.
Optimising is committed to cultivating and preserving a culture of inclusion and connectedness. We are able to grow and learn better together with a diverse team of employees.